Features

Page Updated October 16, 2018


(We've updated both The Way We Were and The Rhinestone Cowboy sections)

---
The Many Faces of WIEL
Talk

Radio

1400







Station Letterhead 1972





WIEL-WKMO early 90's







1986 Logo





14 WIEL Logo






Oldies 1400 (Jones Radio Network)





Management during Jones years 1997-2004




ESPN Affiliate 2004-2009




Logo from the once powerful 14WIEL sits on Ron's reel to reel...while Fonzie & Ralph Malph smile in approval.




'Recycled' WIEL logo used on letterhead in 90's





Vehicle magnet from 80's
(

staff photo

)


---

The Way We Were



This feature takes a weekly look back at radio of yesteryear! Each week this feature will highlight a few soundclips of radio as
it used to be, oftentimes transposed and dubbed from uncovered reels found at our former studios at 406 South Mulberry. We will spotlight themes and excerpts from vintage radio shows from America's past as well as surprise interviews!
The Way We Were is now featured Sunday nights at 7 on 14WIEL Online. For the month of October be sure to tune in for a month's dose of SCARY old time radio!


(Updated!)
---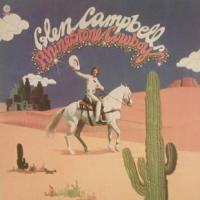 The Rhinestone Cowboy is calling it quits.
Glen Campbell
, one of the most successful pop-country crossover acts of the '60s and '70s, is reportedly ready to tip his hat and bid fans farewell this summer. The singer, whose classic hits include 'Gentle on My Mind,' 'Wichita Lineman' and 'Rhinestone Cowboy,' is putting the finishing touches on his final studio album, titled 'Ghost on the Canvas,' according to
Billboard Country Update
. The project is slated for summer release, and Glen will perform a farewell tour in support of the new disc.
According to the album's producer, Julian Raymond, Glen's tour plans include arriving in towns early to conduct interviews and participate in other promotions before playing small halls or theaters in those selected cities. "He won't go too hard," Raymond tells
Billboard
. "But it will be strategic and a different way to get him out there than the night-after-night grind."
Julian also produced the 2008 covers album 'Meet Glen Campbell,' which was the catalyst for the upcoming recording.
"We thought it was the best way to get him a new audience, and it did," says Raymond of the 2008 album. "There was a huge amount of college downloads for that album."
When plans for the new album were reported, Julian said "an unbelievable amount of people" wanted to participate with Glen. Those chosen to collaborate with Glen include Jakob Dylan, Chris Isaak and Billy Corgan.
"It's not your mother's Glen Campbell," Julian says of the new music. "He's playing guitar better than ever, singing and writing better than ever. It's really going to be a great final statement from him."
Glen is also planning to release an "unplugged" greatest hits album before officially retiring.

Sadly, the Rhinestone Cowboy passed away August 8, 2017...

(Updated!)
---
Gold Vault History (10:05)
Check out a 2001 broadcast of the history of the Gold Vault at Fort Knox
shortly after 9/11
on WLKY TV-32. Interviewed are
local historian Mary Jo Jones, James Jones, WIEL's Ron Boone and former GM and Senator Dee Huddleston, and Doug Simmons.
If it takes too long to download, you can see this video on our Facebook page, "E'town's 14WIEL!"

(thanks to Elvin Smith, Jr.)
---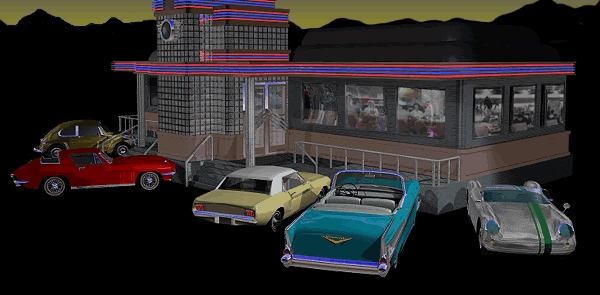 Dave's Diner

During the Jones years every evening at 7pm, Dave Sanders hosted Dave's Diner where, for "the next few hours", he took requests toll free for the hottest oldies. Joining Dave is the Diner crew of cook Sal from Manila, waitress Earline, dishwasher Paula Molive, and Officer Mahoney. One of the highlights of the Basix years, this show put a exclamation point to the moniker of '

Good Times and Great Oldies!

'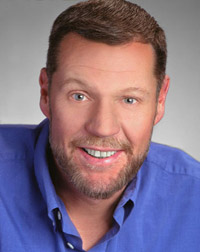 Dave Sanders

---
Local School Programming


1972 Lincoln Trail Christmas Program

In 1972 the students at Lincoln Trail Elementary in Elizabethtown presented a Christmas program from the school cafeteria stage area. WIEL recorded the program and aired it that Christmas. The program is presented here and includes the partial opening and closing by Dick Curtis. The intro is done by current WIEL staffer Max Highbaugh.


Christmas Program (11:12)
*


Lincoln Trail School News


In 1974, Charles Harpe's 6th grade class delivered the school news on Community Radio 1400. The newscast was recorded at the school for rebroadcast on September 24, 1974. The "news team" was comprised (in order) of Max Highbaugh, Darrell Foster, Ramona Peebles, Donna Schroeder, Loretta Phillips, Tracy Dukes, Pam Jones, and Dale Hunt.

School News 9/24/74 (8:02)

---

50th Anniversary Heart of the Matter


In 2000, Ron Boone prepared several versions of an hour long retrospective look at WIEL celebrating her heritage and a rich 50 year history. Every version included sound bytes, jingles, programming bits, interviews and Ron's unique perspective on what has made WIEL special and important to the citizens of Elizabethtown and Hardin County. One of the versions, the only version still in the station hard drive, has been uploaded and divided into 4 parts below for your enjoyment.


---

When the 'Boss' Talks About You


Hear what the boss ( in this case, Dee Huddleston) says behind your back! Hear his interviews with the late Ron Boone below.
---

Richard Upton's Passing


The following article appeared in the July 21, 2005 edition of the Hardin County Independent and is reprinted by permission from Gerald Lush, editor.

There was a long stretch of time in my life when the first section of the newspaper I picked up was sports. And, then, I started checking out the business section first thing each morning to see how much money I had lost on my few stocks. Now, the first thing I look at is the obituaries. It's not, as someone said, to make sure I'm not in there before I bother to start my day. It's because I have reached the age when too many of my old friends and former acquaintances are dying. Just last week I was shocked to learn about the death of one on my best friends when Bonnie and I first moved to Elizabethtown. Richard Upton of Franklin, Ky., died at age 59, which for another couple of months happens to be my age, too. Richard's death didn't make any headlines locally or in Louisville, two of the [markets where] he made a major impact during his radio career.

When I came to town in the early 1970's Richard was the morning man on WIEL, which was THE station here. His golden voice and sharp wit made getting up in the morning a joy for those of us who were listening. Co-workers, however, had to put up with his practical jokes. He regularly hid an alarm clock inside newsman Bill Earle's desk, timed to go off mid-way through his morning report. You could hear Mr. Earle frantically opening drawers, looking for the ringing clock while never missing a word of his very serious news report.

One morning I flipped on the radio only to hear static coming from the speaker. Richard and I had been out very late the night before and I wondered if he would make it to work to sign on the station. As I listened to the static, the station came on the air-right in the middle of a song. When the song finished, Richard, in an unusually raspy voice, said "I understand we have had some technical difficulties". I smiled as I looked at my [own] rough image in the bathroom mirror. Richard's talents took him to Louisville's WAMZ* where he was one of its main personalities for a time, using the pseudonym B.J. Koltee [after which] we lost touch, but I have thought of him often through the years and wondered how he was doing.

As my wife will tell you, I don't put much effort into cultivating friendships and maintaining them. That's why most of the people I see listed in the obits are 'old friends' and 'former acquaintances'. But just because I haven't kept track of them over the years doesn't mean I won't miss them.


Goodbye, Richard. God bless you.


*Editor's note: Gerald was actually referring to WAKY in Louisville. Louisville radio personalities have confirmed that he was never at WAMZ...however, he
did
pull air time at WINN and WCII, both period Louisville country heavies on the AM dial.
MH


---
Vintage WIEL Weekly Programming Schedules!!


Thanks to Paul Urbahns we offer, for your viewing pleasure, weekly programming schedules (we all know schedules, especially

radio

schedules are subject to change!)...many of which will go back to the fabulous 50's! So stay tuned as we'll have more of these to share, most of which will be in PDF format. In order to view these, you will need to have the FREE Adobe viewer. Enjoy the schedules that appear below, starting with ones from the week of August 24, 1962 and May 3, 1951.





The week of August 24, 1962






The week of May 3, 1951


(from the Elizabethtown News, courtesy of John Lay)

---
Schedules in PDF files


---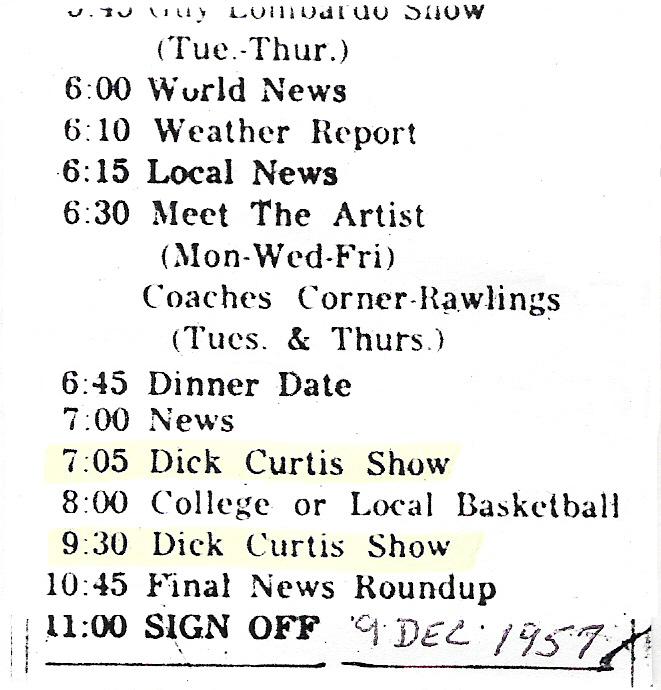 Excerpt from WIEL schedule 12/9/57


(

courtesy of Paul Urbahns

)



From late 1957 through the end of 1958, the name of the evening music time slot was changed




from "Tunes Around Town" to "The Dick Curtis Show", making Dick Curtis Hardin County's




first 'personality dj'. By 1959, Dick took over sports play by play duties at the station, and the


time slot reverted back to "Tunes Around Town".


---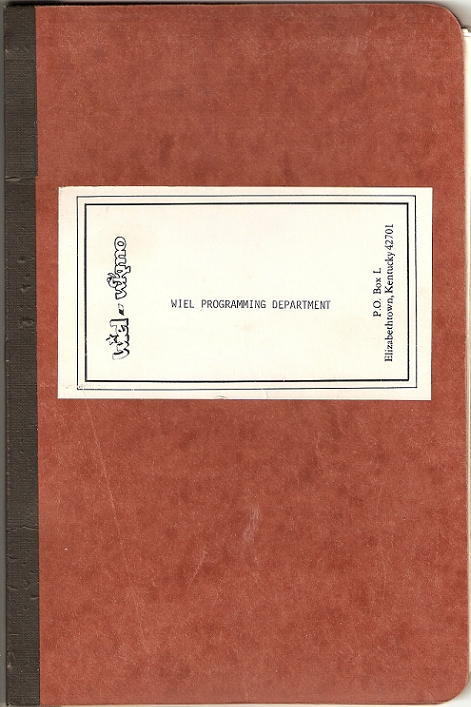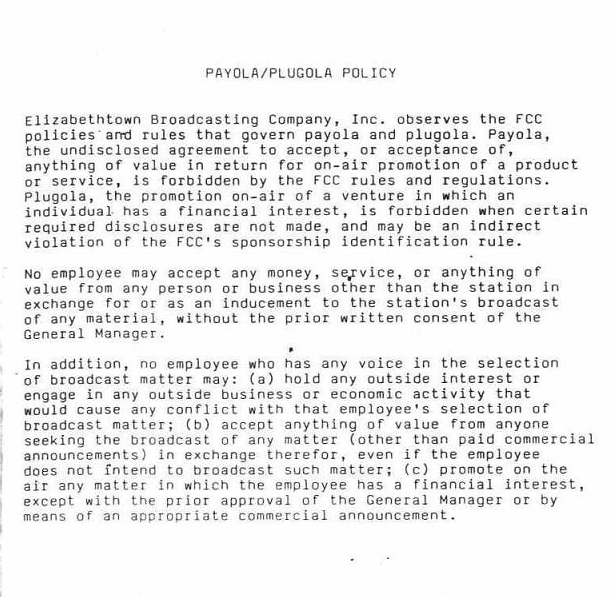 Payola policy from WIEL/WKMO Personnel Policy Procedures Handbook at top
(updated January 1990)
(

staff photo

)

---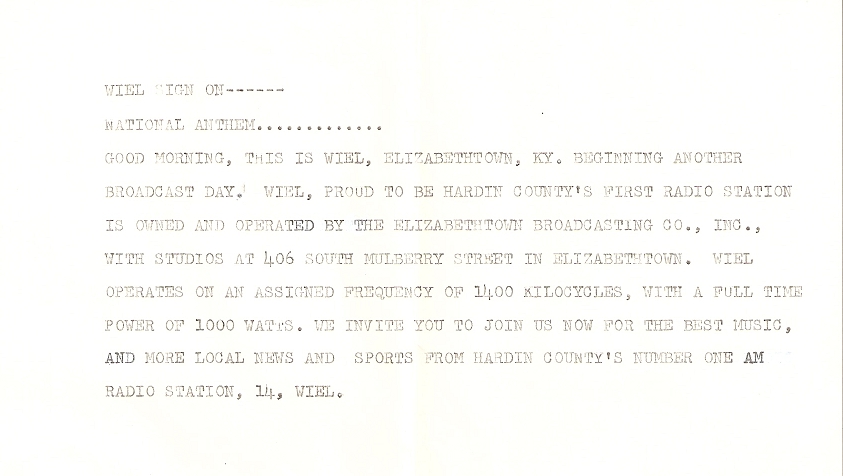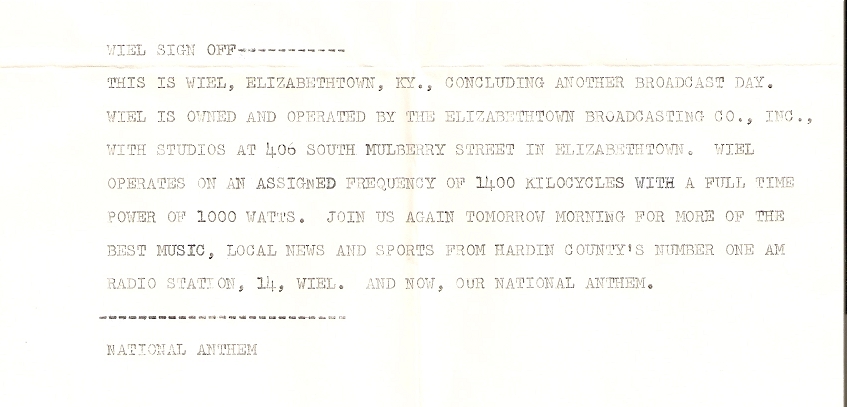 Recently uncovered WIEL sign on and off script from the accompanying reel (7/8/08)
(

staff photo

)

---
PureGold 1400



In the latter part of 1989 and through a portion of the 90's, WIEL switched to an satellite feed called

Pure Gold 1400

, much like the subsequent Jones Radio fed

Oldies 1400

format. The reel below contains liners from the Pure Gold jocks...yet another bit of WIEL history pulled from the closet!

PureGold 1400 liners reel
(
staff photos
)
---
Music Radio 1400!
Paul Urbahns worked at Music Radio 1400 in the early 70's. He has also been a vital part of the Ancestral Trails Historical Society. As their historian he has done a massive research of Hardin County and beyond. Part of this research has entailed one of his life loves...radio. It's because of this love and his keen insight of radio, much of it gained firsthand, that he plays such an important part of WIEL Information Radio. He has written a history of our beloved WIEL and one which we hope you will enjoy. Click on the above title, read, listen and

enjoy

!

---
A Birdseye View of Elizabethtown

With all that goes on below in our fair city, one gets a different perspective airborne, as experienced by Hans Marsen of Rineyville. We thank Hans for his willingness to share some of his experiences with us 'here below' by clicking on the above title! You can see other examples of his photography exploits by going to his website. (Wonder if Ron ever took a ride with him?)

---
Commentary on Today's Radio

Read online articles on the future of radio and what it has or will become as time passes.

---
Phonographic Memories

by Michael Marvin 5/24/1978


Old stars preserved in celluloid and cardboards
while their ghosts play on the airwaves of dawn
One kilowatt of solace
For those resurrecting their past
Through gray mornings
Peeking in through cathedral windows
Without the stained glass.
Time slowly steals away the youth,
Deserted in playgrounds and high school classrooms
All that is left is phonographic memories
Songs covered with dust
Played on hard diamonds
Here for the asking

The above poem was shared with us by Deanna Pozesny, close friend and confidante of Mike's, who gave her
permission to share this early work with us.

(Thanks, Deanna and Mike!)
---
Mark Isham shares with us the following home movie shot while working one Sunday morning in 1981. The 'video' shows Daryl Hodges
(

apologies for his gesture

)
, Amy Brandli-Coyle, Eric Harlan, and WKMO's Wayne Mitchell (Rineyville Baptist pastor Mitch Ash).


WIEL Home Movie (1:18)
Enjoy this slice of history! (Nice boogie woogie music bed, Mark!!

---
"And you can get it now at Ollie's Trolley..."

Most of us remember when Louisville had numerous Ollie's Trolley hamburger joints. There is still one standing downtown. For an article appearing in the Jeffersontown Sun and interview, click here!

---
A WIEL Paul Harvey Original!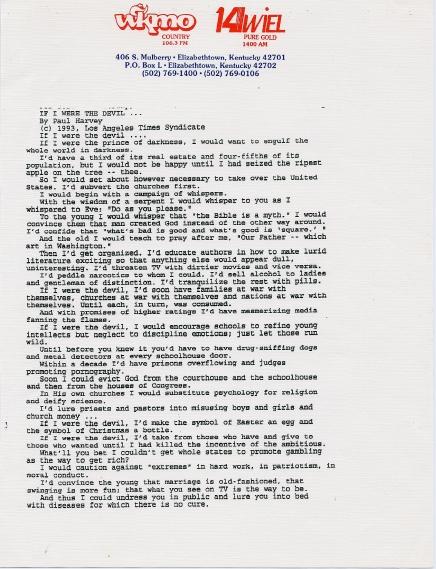 Paul was well-known for his no-nonsense conservative views
(shared by all too few in

this

reporter's opinion)
.
One day while visiting the WIEL studios he sat at one of our typewriters and penned this original composition.
Thanks so much to Deanna Pozesny for sharing this with us!

(courtesy of Deanna Pozesny)

---