Long before FM became known as "Free Music" radio, music always served as a big part of most any radio station programming before the early 1980s when radio formats became fractured into various sub groups. In the earliest days music was performed live on radio, but by the time WIEL came into existence, the 'Golden Age' of radio was over. Television and Drive-In movie theaters had taken much of the evening listening audience. Music remained a staple programming tool even when WIEL signed on for the first time in September 1950, and music was played on 78 rpm records. Large (10 inch diameter), heavy disks compared to today's CDs. This required large heavy turntables and sturdy cartridges.
The early 1950s was also a period of live announcements read by the announcer on shift, as very few recorded commercials could be produced locally. Some national agencies provided commercials to stations on disk. Major market stations had disk cutting equipment of their own, which allowed them to duplicate commercials used on network feeds. This was especially beneficial for Hollywood movies playing at the local theaters, as movie commercials many times sounded like the preview promotional films featured in the theaters. As the 1950s drew to a close, advances in the recording industry made life much easier around radio stations. The large 78 rpm disks gave way to an industry standard 7 inch 45 rpm record, popular not only on radio but in juke boxes. Plus the introduction of the broadcast endless-loop tape cartridge has been developed for radio broadcasting. WIEL installed broadcast tape cartridge equipment shortly before the power increase from 250 watts to 1,000 watts in Oct 1961.
In a 1961 interview in the Hardin County Enterprise, Walter Dee Huddleston mentioned that all those records you hear on WIEL aren't free. The station pays a fee based on gross income to three music licensing services, Broadcast Music, Inc. (BMI); ASCAP and SESAC. The composers and the performers share in the profits from those fees. The records themselves were generally free however, and provided by the record manufacturers hoping for the station to pick a new selection for broadcasting. This made the listening public aware of the new release and in turn generated sales. Over the years many types of music has been broadcast over Elizabethtown's "tower of power".
Variety was the spice of WIEL musical life, in the early days when the station was this area's only local radio station. It was necessary to program music of a variety at a time when the primary audience for that type of programming was listening. Rebel Rouser, hosted for many years by Tom Baldwin, was an early morning, up tempo, and mostly country flavored program of music aimed squarely at the farmers in our area. Farmers would be up and doing daily chores before many city dwellers even had their morning coffee on. Southern Gospel music found favor, as filler music between various blocks of 15, 30 and one hour programs aired on Sunday mornings. Local weather forecasts, time and temperature checks, local announcements of regional church activities and community revivals allowed the WIEL Sunday morning personality an early morning "foot in the door" of many households in the area. Even people who did not generally listen to the station during the week, would tune in on Sunday mornings when their own church was presenting a 15 minute Bible study type broadcast. Because of its slow paced presentation, and generally recorded nature of the programming, many young men started their careers in radio working Sunday mornings at WIEL.
Once television sets became commonplace in Elizabethtown during the 1950s, music presented on the late 50s "Dick Curtis Show" during the
evening hours (7 PM to 11 PM) included more 'Big Beat' melodies popular with teenagers. Two reasons for large teenager listenership included, the fact several Louisville stations popular with teens either went directional or cut power at night. This made their AM signals almost unlistenable in Hardin County especially on cheap transistor type radios popular with young people. Additionally WIEL, since its early days, always provided top quality local sports coverage of high school games both home and away. Therefore teenagers and their families could hear ballgames year round that interested them. On top of that, local football and basketball coaches had their own regular programs on the station. Many times students of area schools would 'call in' the scores of ballgames not actually broadcast, to allow the listening public a chance to keep up to date on local sports.
But returning to music, let's look back at some of the records which received their time on WIEL over the years. It is very possible to pick up old WIEL records at local flea markets, Goodwill stores and such, since the music library was sold off years ago. I have particularly selected songs which you do not normally hear on "oldies radio" today. None of the following made the national Top 5:
The earliest record in this display is Nancy Wilson's 1960 Capitol record of
Your Foolish Heart
. This is the only record on display that is a 'stock copy', meaning the record you would have purchased in the local music stores. It was common in the 50s and 60s for radio stations to receive extra stock copies of records for radio station giveaways. Some of these made their way to the station library. This was especially common when the supplied DJ or
promotional pressing
was badly worn from airplay. This record was number 606 in the WIEL music library.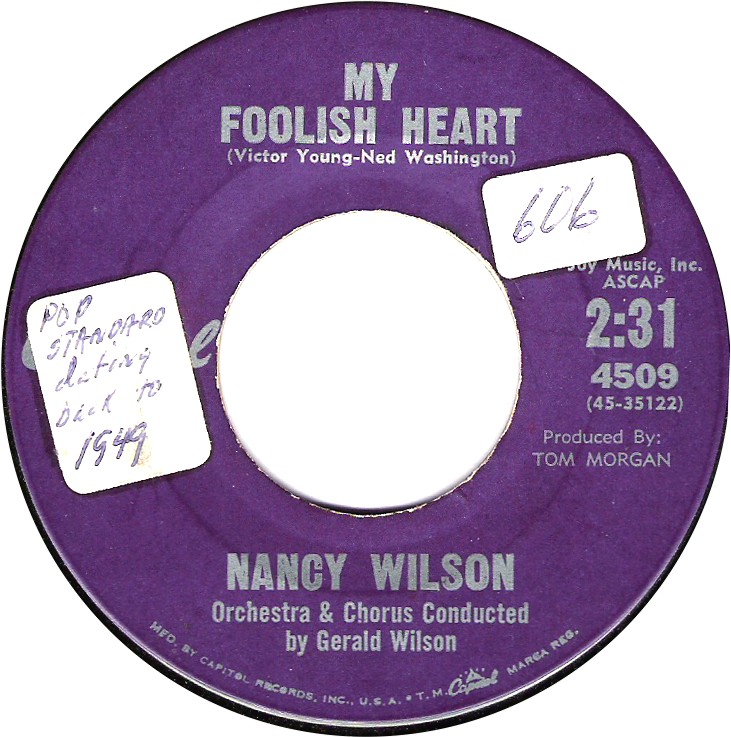 My Foolish Heart was a typical Nancy Wilson vehicle sounding very similar to Frank Sinatra's Capitol recordings. It was significant enough to be featured as the second track in a modern three disk set of Wilson recordings called, "
The Essence of Nancy Wilson: Four Decades of Music
" available at
Amazon.com
, at which a sound clip of the song is available.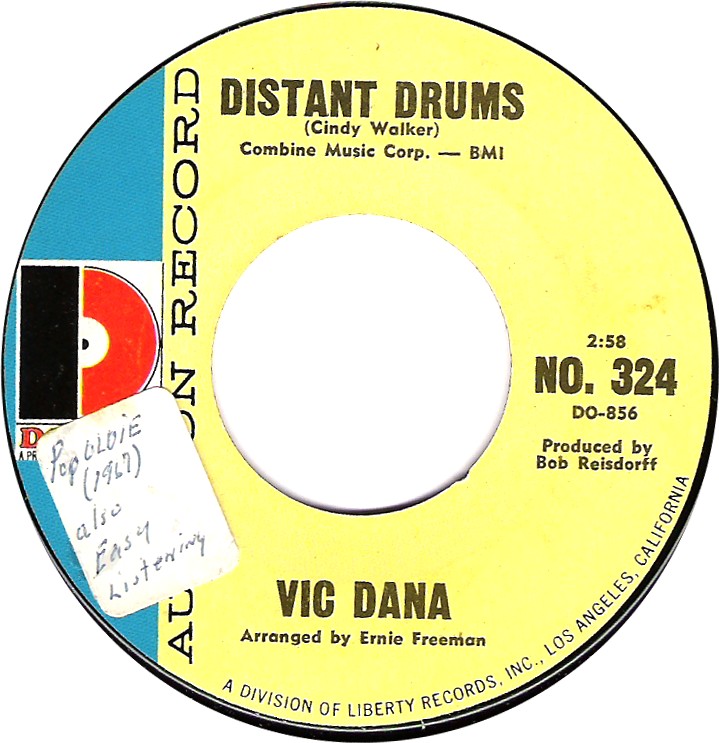 Vic Dana was a popular vocalist in the era before Beatlemania and the so called British Invasion of 1964. Dana survived the invasion and scored his biggest hit in 1965 with
Red Roses For a Blue Lady
. His
Distant Drums
, a 1966 promotional copy pictured here shows a typical radio station release. The same song is pressed on both sides (in mono and equalized for AM radio) so stations could wear out one side then flip it over and use the second side before replacing it. Figuring the average hit during the 50s and 60s had a three month chart run, and most stations could typically play the same song up to 9 times per day, that would amount to 810 plays of the same record. ˜Distant Drums, issued in November 1966, peaked on the Billboard Easy Listening chart in 1967 as indicated by the sticker on this WIEL library copy.
Dusty Springfield's first solo success in 1963 with
I Only Want To Be With You
made her a favorite of radio programmers everywhere. A status she retained until her death on March 2,1999 from breast cancer. Dusty's record label during the 60s, PHILIPS made it a point to service radio stations with every new release.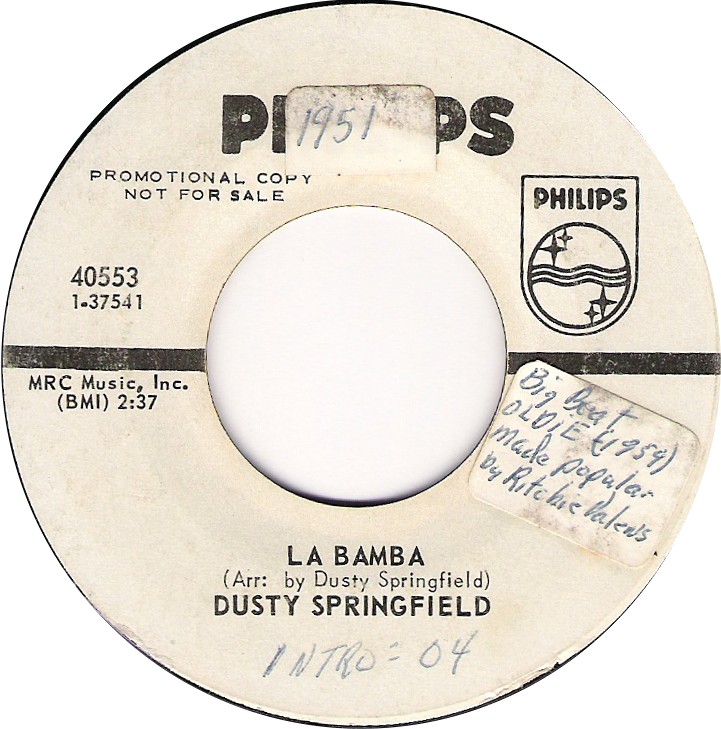 La Bamba
(WIEL Record Library disk 1951) is the B side to
I Close My Eyes and Count To Ten
which was issued in September 1968 after her big hit,
Look Of Love
but just before
Son Of A Preacher Man
.
La Bamba
was originally issued on her 1965 album,
Everything's Coming Up Dusty
. You will notice from this and the following examples that radio station promotional copies generally had very plain labels with very little color. This made the records easy to read while spinning around on the turntable.
John Davidson was a popular movie and television personality that sold a considerable amount of records for Columbia in the period between 1966 and 1969. During this period, he had major roles in two popular Walt Disney films, "The One And Only Genuine Family Band" (with Walter Brennan) and "The Happiest Millionaire" (with Fred McMurray). His singles such as April 1968s
Visions Of Sugar Plums
backed with the Neil Diamond composition
Flame
served more as a promotional tool to promote album sales. However this one (number 162) from the WIEL music library did chart on the Billboard Easy Listening Chart.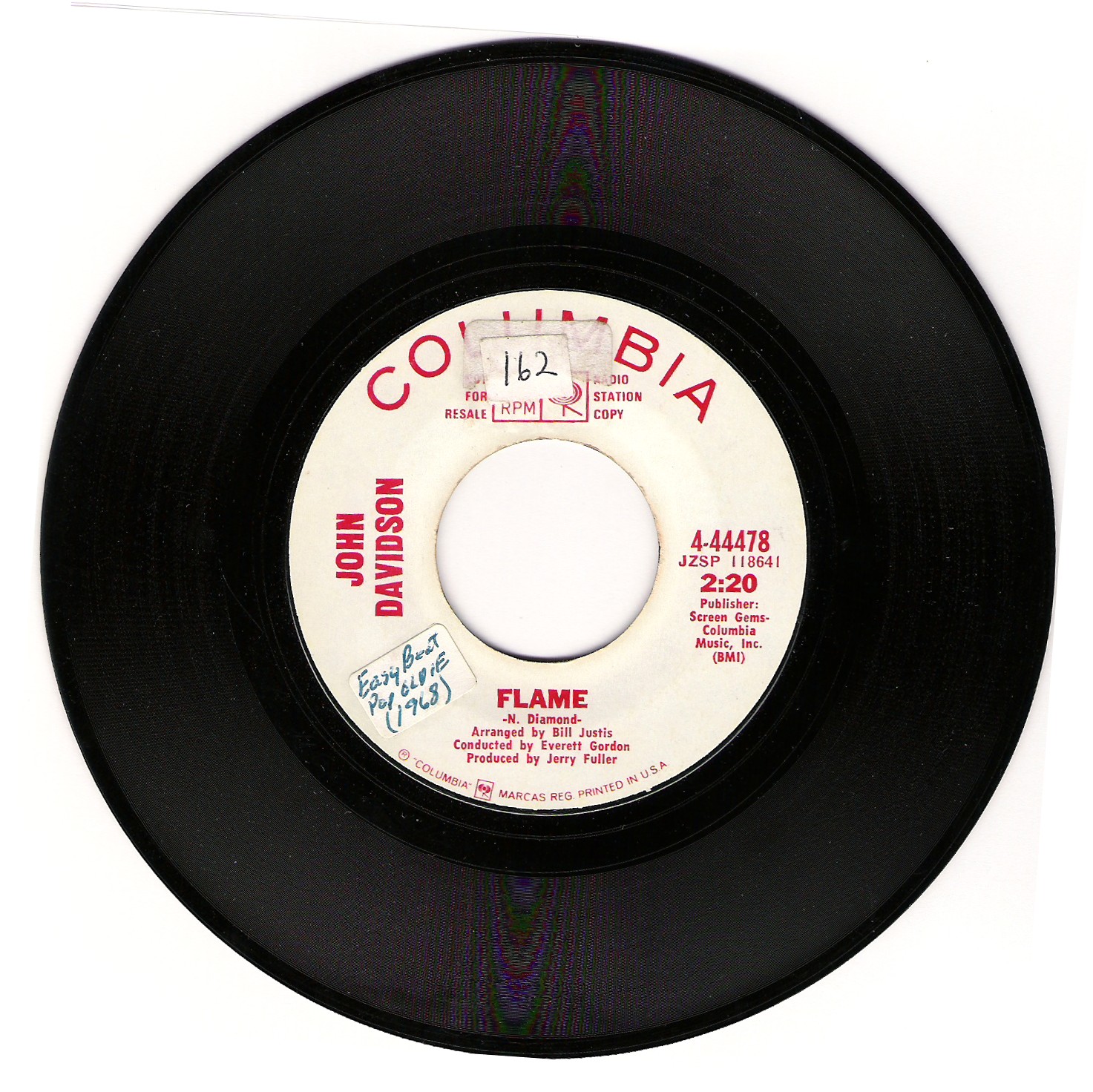 During the late 70s another technical upgrade was made to the WIEL studio facilities when WKMO was moved into the building from Hodgenville. Stereo boards and turntables replaced the 1960s vintage mono equipment. Briefly there was an experiment conducted to place all the current hits on endless-loop broadcast tape cartridges, mentioned earlier as used for commercials, to avoid record wear and the associated noise on the air. This experiment was short lived when it was discovered that broadcast carts inherently have a phase error that was quite pronounced when combining two stereo channels into the one mono broadcast signal. Sometimes it resulted in a wavering sound (fading in and out rapidly). Records continued to be the main source of music programming right up to the advent of satellite automation.
During the 1980s WIEL was known as
14 WIEL
and this subliminal message was also conveyed to the announcers through marks on the records. From 1981 Fred Knoblock's remake of the Chuck Berry classic
Memphis
received airplay for a reasonable period. Markings indicate it has about a 13 second intro and ends cold. This information was valuable to DJs trying to run a
tight board
. Tight board was a broadcasting term meaning very little quiet or "dead air" between elements. From 14 WIEL in 1983, Helen Reddy, famous for her 1972, number 1 hit,
I Am Woman
was receiving airplay for her current release "Imagination". By this time, Reddy had dumped her woman's rights sound, for something more like Olivia Newton John. The intro time is circled and according to the markings, the song fades at the end. But it just wasn't songs that were distributed on records to radio stations. Many times whole programs were distributed that way. The first known radio syndicated program was during the 1930s with Amos N Andy.
Two of the most popular announcers in the United States, during the early 1970s, hosted programs on the American Forces Radio and Television Service. Roger Carroll and Wolfman Jack were very familiar to every soldier, sailor or airman who had spent anytime at all overseas. The United States Air Force syndicated special half hour programs to stations in the United States as a recruiting tool. Each week local stations, including WIEL, played these half hour shows of current hits and promotional announcements for the enjoyment of locals. The programs counted toward the stations mandated, public service time quotas established by the Federal Communications Commission. Following actual broadcast once these disposable disks were supposed to find their way to the nearest dumpster and most did. However here are two disks used at WIEL in 1973.
The following two programs were aired on Friday (Roger Carroll) and Saturday (Wolfman Jack) during the last half hour of the broadcast day. This gave the evening announcer a chance to put records away, put new paper in the teletypewriter news machine, empty the garbage can, or do whatever else was necessary at closing time.
Roger Carroll was a 'middle of the road' announcer who played, "the best sounds in town" on KMPC in Los Angeles. His program was primarily new versions of standards and songs charting on the Billboard Easy Listening Chart. This scan shows WIEL employee Glenn Nichols initials and the date January 19, 1973 as the actual Friday night it was aired on WIEL.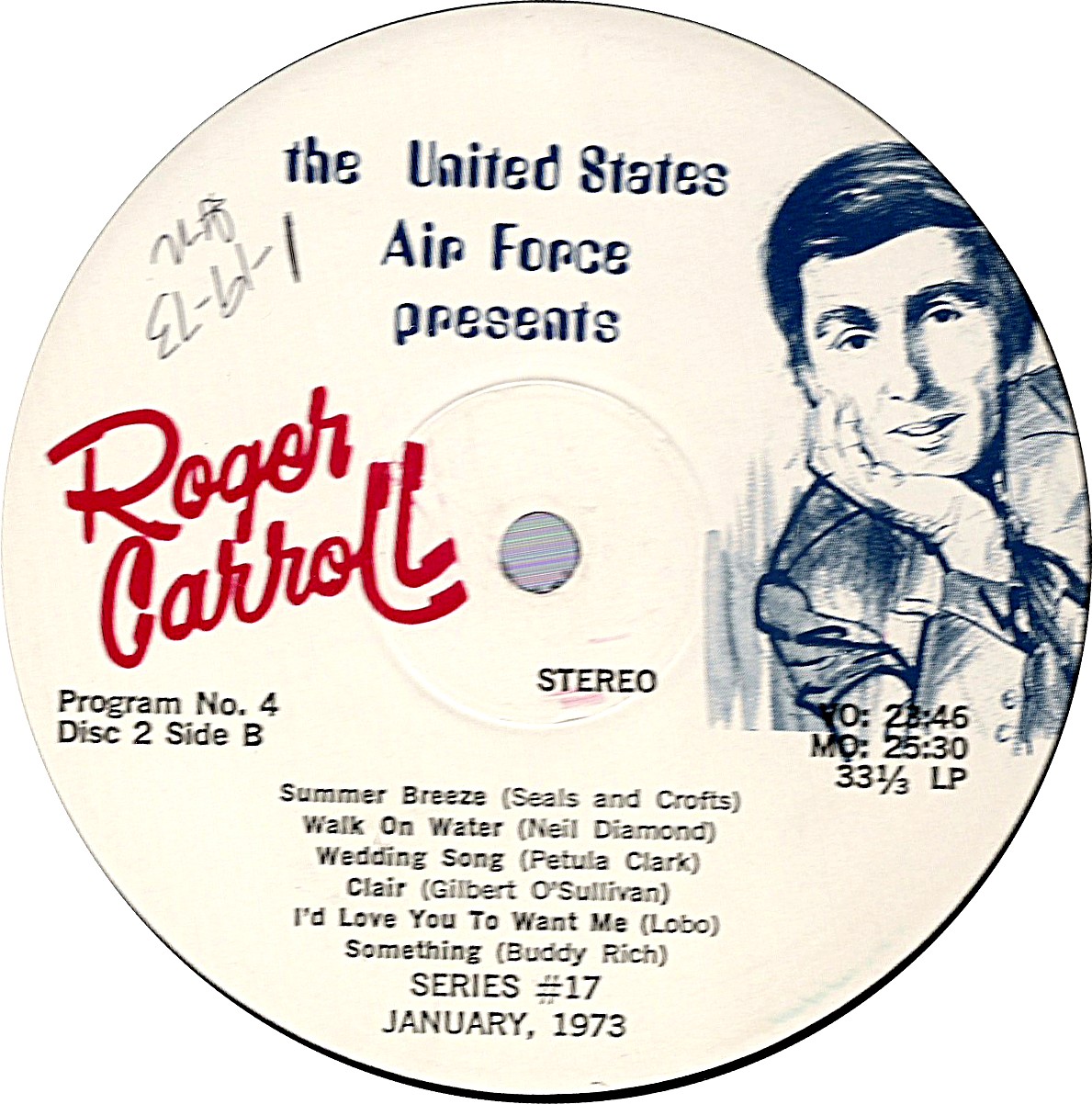 Wolfman Jack became a broadcast legend and appeared not only behind the microphone, but on records by The Guess Who, The Stampeders, and Flash Cadillac And The Continential Kids, as well as in movies such as American Graffiti.
Click on the link below and hear a sample of Wolfman Jack from January 1973 on Music Radio 1400 - WIEL.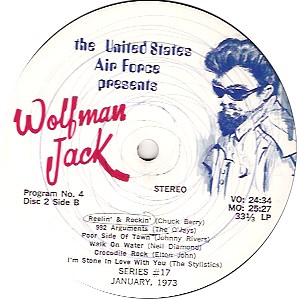 Wolfman Jack January 1973 (5:14)
---
<
Home
>