The Evolution of "Evolution"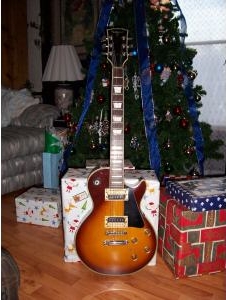 The story of Evolution is truly an evolution in itself. In 1976 John Rock & Max Highbaugh first met at Hardin Central Jr. High School in Cecilia, Kentucky. The two hit it off and fast became best friends. Sharing an interest in music and records, conversation soon revealed they were both guitarists, which made the bond even stronger. So much were they into the music of the 70's and playing guitar, that they set out to form a band. Taking an idea from the inside jacket of Elton John's "Goodbye Yellow Brick Road", they took the name Phoenix, based on artwork for the song "Grey Seal"
It wasn't long before they realized two guitars do not a band make, and finding a bass player was impossible, because hardly any junior high students desire or even own a bass. On top of this, the majority of musicians they knew were in band and played only band instruments. They found one of the drummers in the band, Scotty Turner, was willing enough, but still needed a bass. Added to this, they had decided to enter a talent show in 1977. Getting desperate, they met a girl, Mickie Daniels, who they found out also played guitar. In short, they talked her into playing bass on the 6th string on her guitar.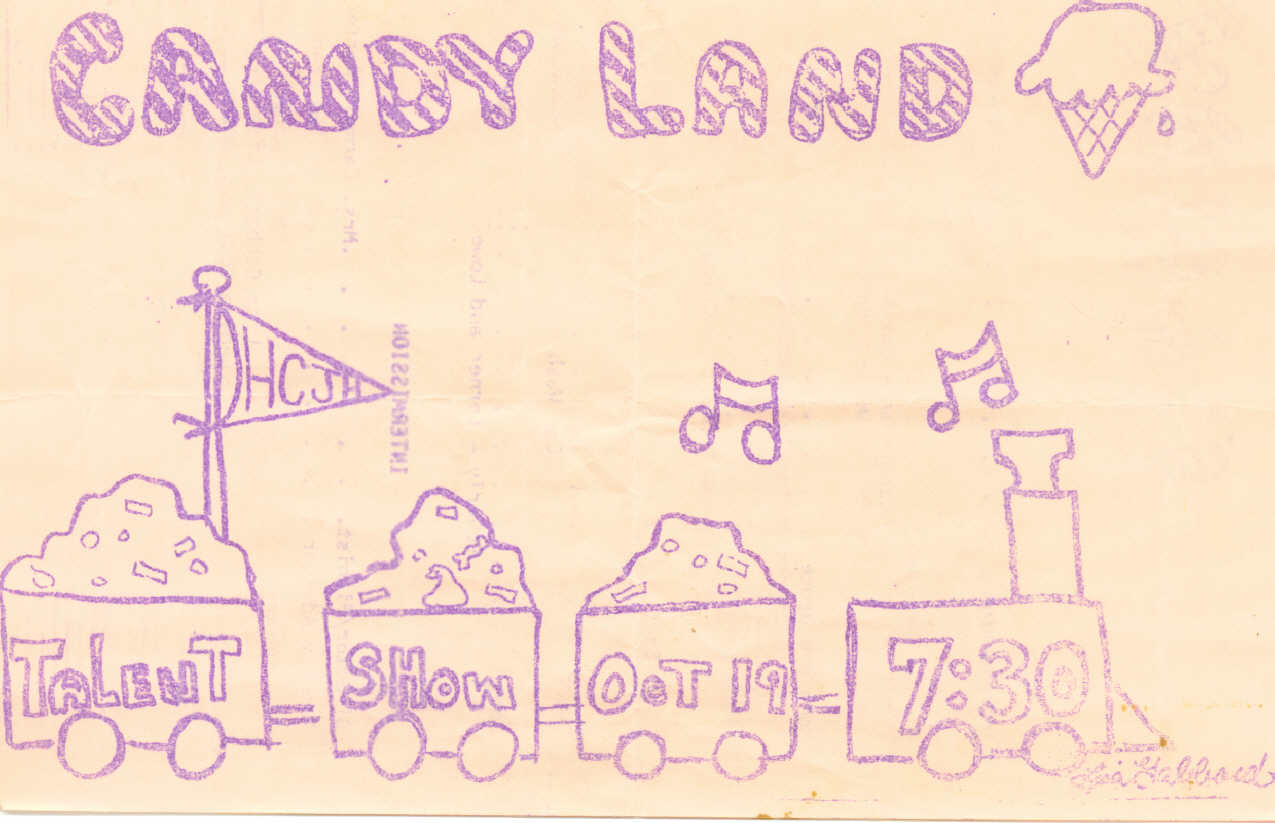 So it appeared they had their band in place. By this time the two, both fans of the Eagles, chose "Outlaw Man" for the competition. Practices usually were attended by only 3 members, with maybe one practice actually where all members present. To make matters worse, about a week before, Scotty found he was not going to be able to even be at the talent show. Going into hyperoverdrive, they frantically looked for a replacement. They found another drummer in the school band, Mark Fraze, who agreed to sit in...the day of the show!. His lone practice was the afternoon before the show! They met after school that day and, after running through it a few times, found the only way to end the song was to have someone turn around and give Mark a nod...REAL professional!...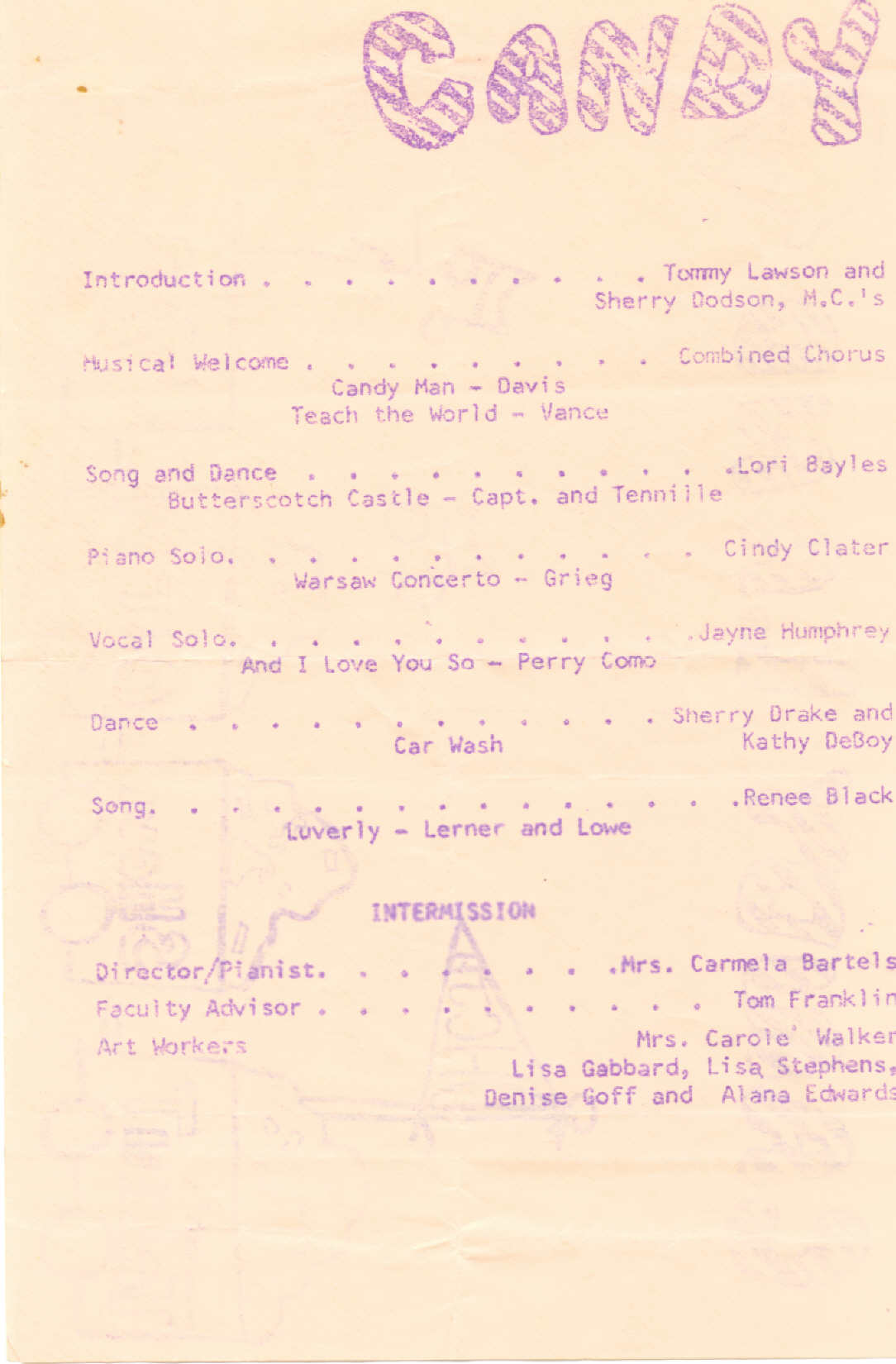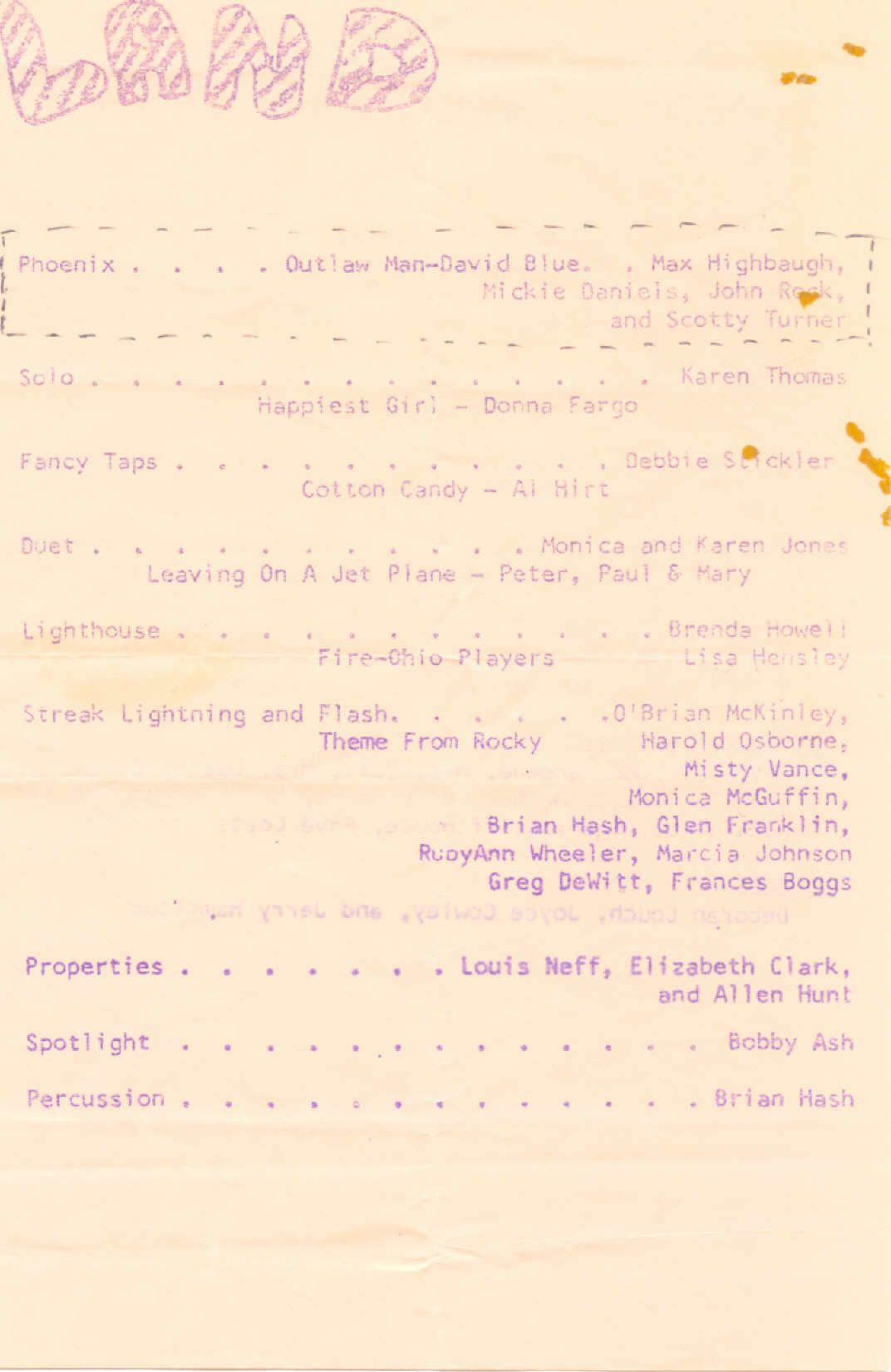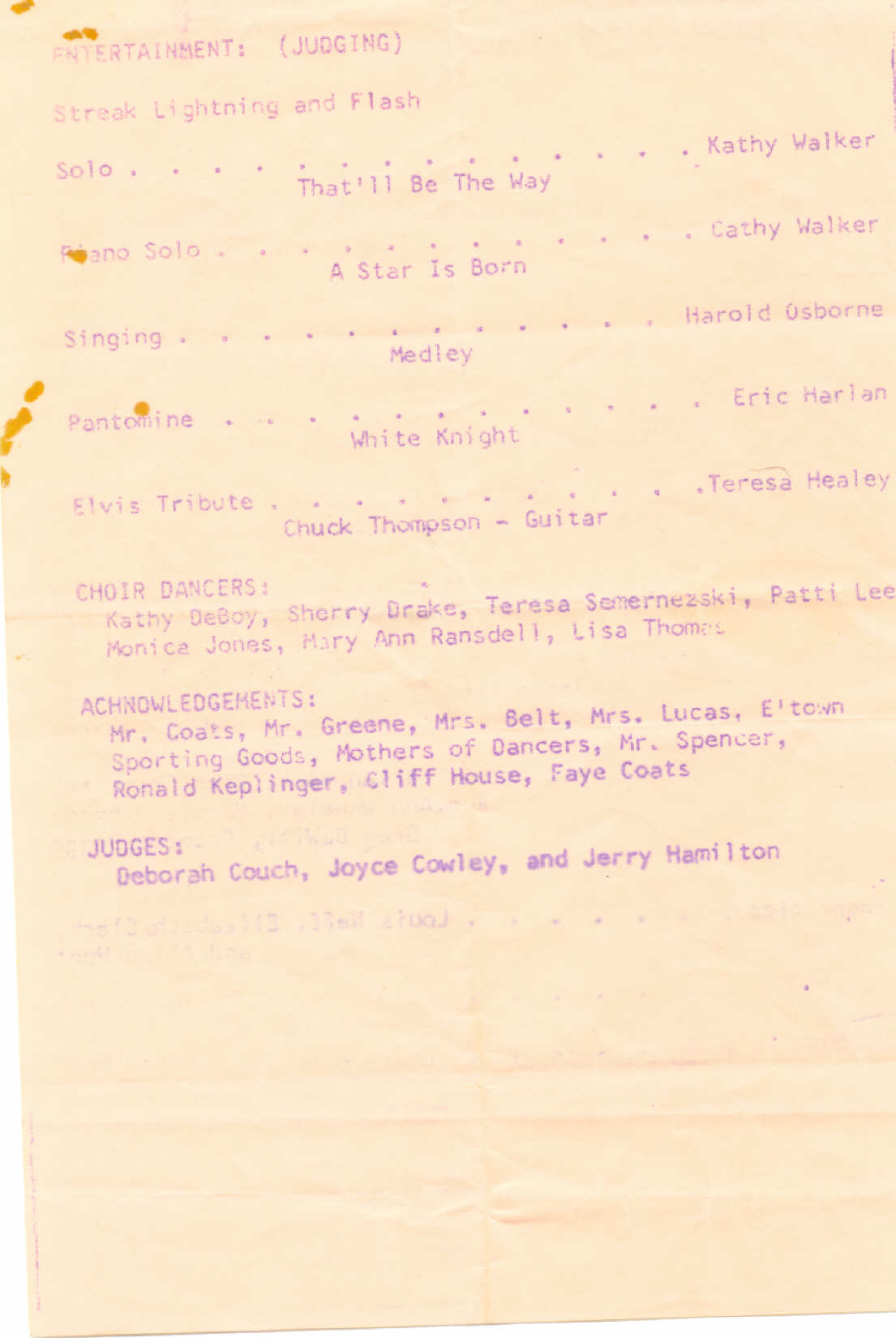 After the talent show failure, they tried to regroup their efforts and reinvent themselves, setting out to recruit members from Streak, Lightning & Flash, another group consisting of band students who had performed "Theme from Rocky" in the talent show. Harold Osborne, who played trombone, also played keyboards, so they recruited him and Brian Hash on drums. Intending to use horns as well, they ordered sheet music for "Pick Up the Pieces" and "Keep it Comin' Love" and set out to play for the 7th and 8th grade dance. Incidentally, the music above was the only danceable music Max ordered. The rest of the sheet music consisted of "Sweet Home Alabama", "Cold As Ice", "Out of Control", "Carry On Wayward Son" "Give a Little Bit", "Piece of Mind", "Long Time", "More Than a Feeling"...you get the idea! They didn't get to play at the dance...a wise decision by those in charge!
The following year, the band members moved on to East Hardin High School, except for Mark Fraze, who went on to West Hardin...which really was insignificant, as John and Max decided to change the line-up. Brian Hash agreed to join the band on drums, but the problem of not finding a bass player followed them to high school. They met a guy who they found out had a bass!! They thought their search had ended. He also provided a basement to practice in that afforded them more room than John's kitchen. It was then they decided to enter the talent show their sophomore year in 1978. It didn't take long for them to discover this guy was terrible on the bass, but given the market they didn't have much choice. Still intent on performing Eagles music, they practiced on several tracks off their debut album, in particular "Tryin". Well, try they did, but with an inept bass player they gave up. Chosen was a fairly simple song that wasn't too challenging on the bass. "Surfin' U.S.A." proved to be a pretty good choice, earning them 2nd place, despite the bass player all over the fingerboard playing one wrong note after another and offering a very monotone backing vocal. Despite the 2nd place trophy, he was not asked to return. And by this time, Max and John had acquired matching Les Paul copies, Max's being a Lotus and John's being a Hohner. Max always reminded John that his was made by a harmonica company! For the remainder of their sophomore year they tried numerous personnel changes, including Glen Franklin on keyboards, Scott Walters on vocals, as well as several persons who basically were in and out what was a revolving door.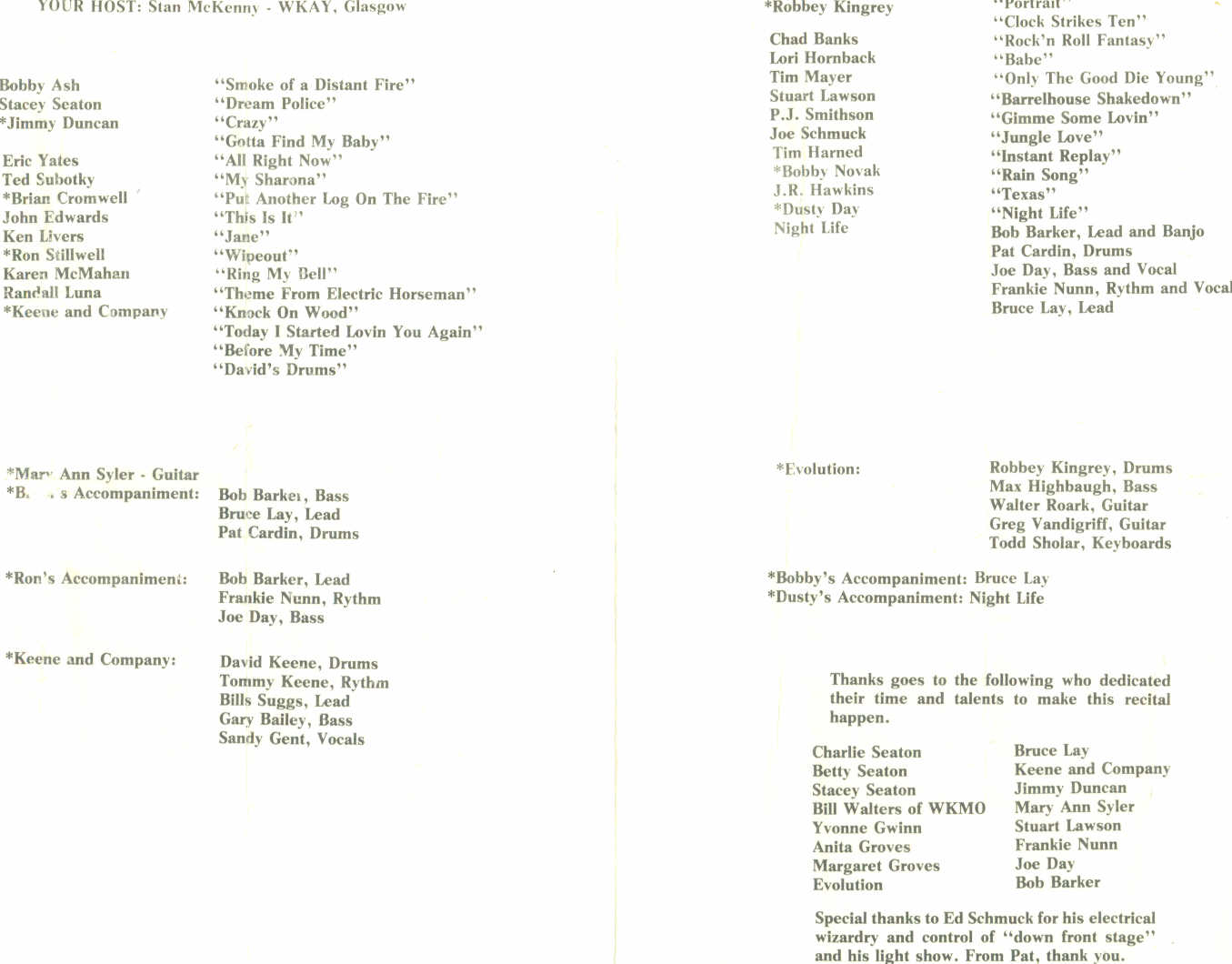 The summer before their junior year brought about alot of changes. Not only did almost the entire lineup change, but the name as well. Robbie Kingrey, a year behind them, was to have a drum recital in 1979 and was looking for a band to back him up. The band to back him up was to be a revitalized Phoenix, but the only one to remain was Max. Seizing the opportunity again to reinvent the band and it's sound, this new line-up was named 'Evolution', after the current Journey album. The band included Greg Vandygrift and Walter Roark on guitar, Max on bass, Todd Sholar (Exodus, the Risk) on keyboards and of course Robbie on drums. Their set consisted of 'Riding the Storm Out', 'Clock Strikes Ten', and the latter half of 'Freebird'.
This lineup and new 'sound' gave them a harder edge and they set out to enter the Hardin County Fair Youth Talent Show July of 1980. After several practices, several lead singers and several songs they chose REO Speedwagon's 'Only the Strong Survive'. As might be expected, the line-up had again changed. John had returned on guitar, Mike Ash had been recruited on bass who shared vocals with his twin brother Mitch. They also had found yet another drummer, Stuart Lawson, who had just graduated cross town rival Elizabethtown High. Stuart had played with Max and Greg Luken (Exodus, the Risk) in an inpromptu performance and had also helped with the Robbie's drum recital. They didn't even place, which left Max and John dejected.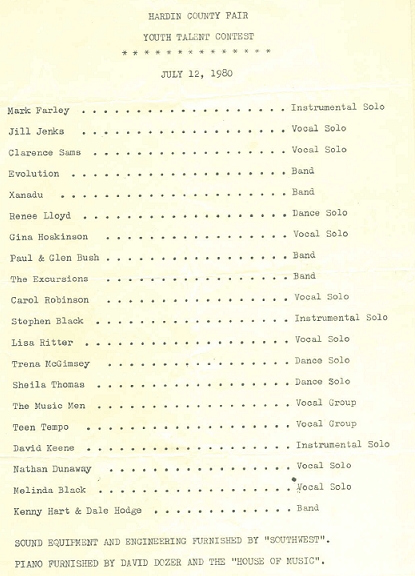 Their senior year brought an interesting chain of events. John and Max continued to pal around and jam, even if it was just the two of them, much like back at Hardin Central. However, that spring brought them near notoriety. They asked principal Bill Reynolds if they could give a concert, to which Mr. Reynolds quickly said 'no'. When told it would be a Beach Boys Concert for 50's Day of Basketball Homecoming Week, he agreed just as quickly. So they began to practice in earnest. The current line-up was Max and John, as well as Mitch and Mike reprising their roles from the Hardin County Fair, and Robbie back on drums. The only addition was James Stroud who provided additional backing vocals and tambourine, not to mention yet another place to practice! After relentless practices, the concert was a piece of cake. Although it was a return to a former repertoire, it did include Chuck Berry's 'Johnny B. Goode' and was thoroughly enjoyed by the student body, as well as the faculty.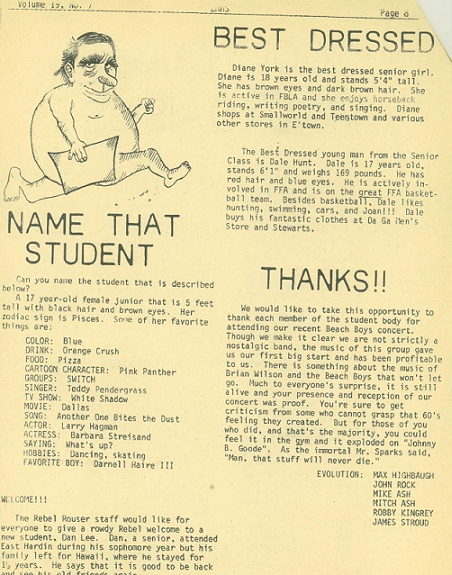 Later that spring, Mitch and Mike formed the Country Edition, along with Max and Robbie. Mike, Mitch and Max had been in chorus with Harold Osborne, a former recruit and they would mess around on "Seven Bridges Road" by the Eagles and were even asked to perform it on the spur of the moment at the senior prom. The Country Edition had entered the Hardin County Fair Youth Talent Show after graduation, performing "All the Gold in California". They indeed won that contest and things couldn't have been better until a head-on collision almost took Max's life. They went on to the State Fair competition without a bass, instead having Harold handle the bass on keyboard. As if this was not enough, Evolution had been rehearsing for what was to be their last performance, at a talent contest at Pritchard Community Center late that summer. With yet another line-up, the band was to have consisted of Max and John, as usual, local guitar veteran John Brown on bass, Mitch and Mike, and Robbie. The accident left John alone on guitar and the band again didn't place. It was a disappointing ending to what had been an enjoyable ride. Add to this, shortly after he got out of the hospital, Mitch was involved in a serious accident as well. Talk about a band curse.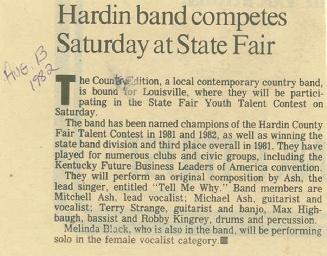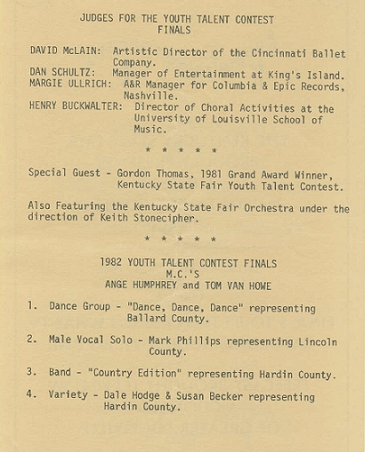 After rehabilitation Max continued on with the Country Edition, and they won the youth talent show again in 1982 with an original composition, "Tell Me Why", with Terry Strange on guitar and banjo, and placed in the top 3 again in 1983 with "The Closer You Get", but switched to "Stranger In My House" for the state level. This last line-up included Mark Clauson on electric guitar, which gave the group a harder sound. They played several private parties as well as an FBLA Camp, but the 1983 state competition was the last time the Country Edition performed, at least as a band. Mitch and Mike continued to perform under that name, but as a duo.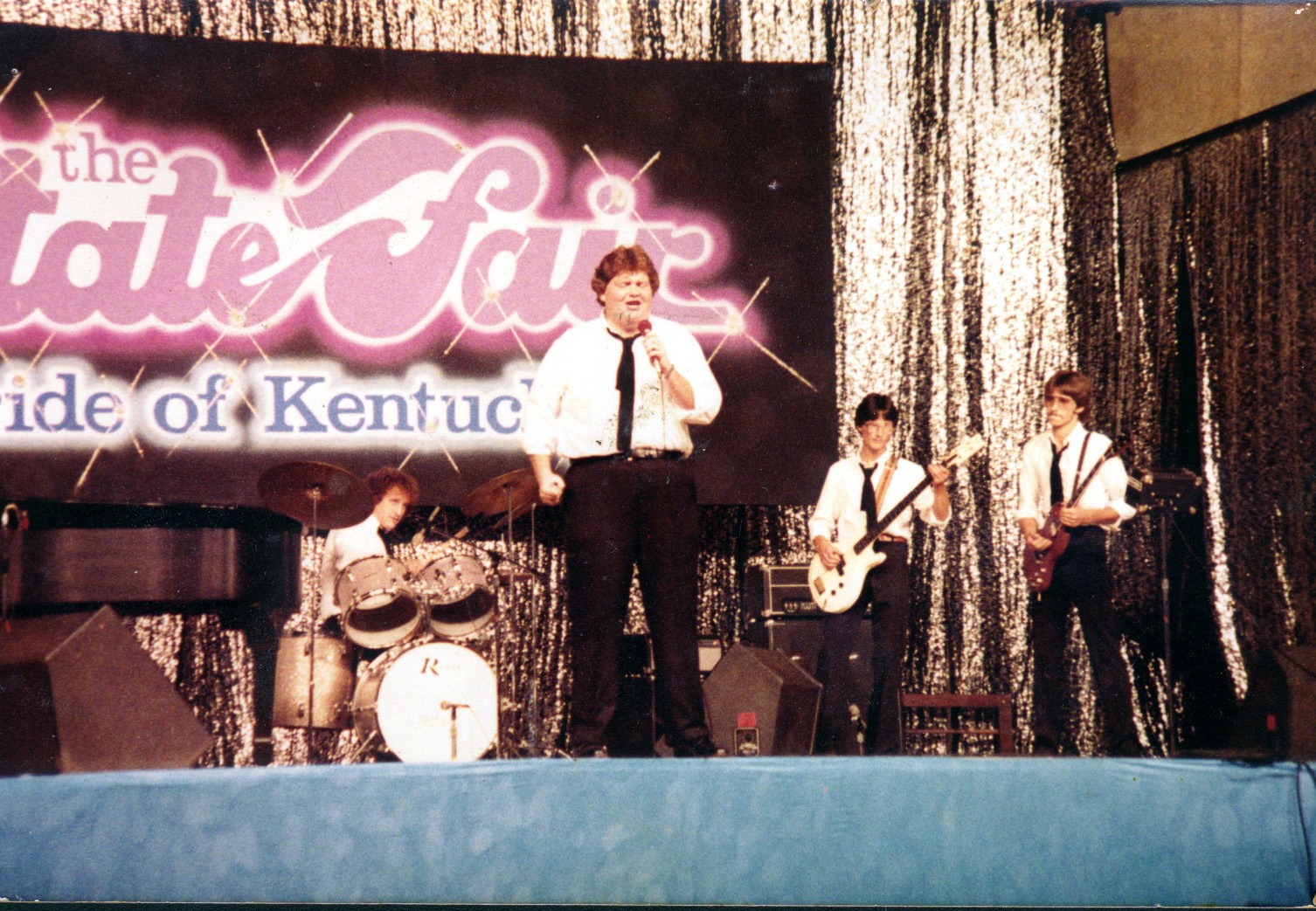 The Country Edition
Mike Ash (off camera at piano), Robby Kingrey, Mitch Ash, Max Highbaugh, Mark Clauson at 1983 Kentucky State Fair Youth Talent Show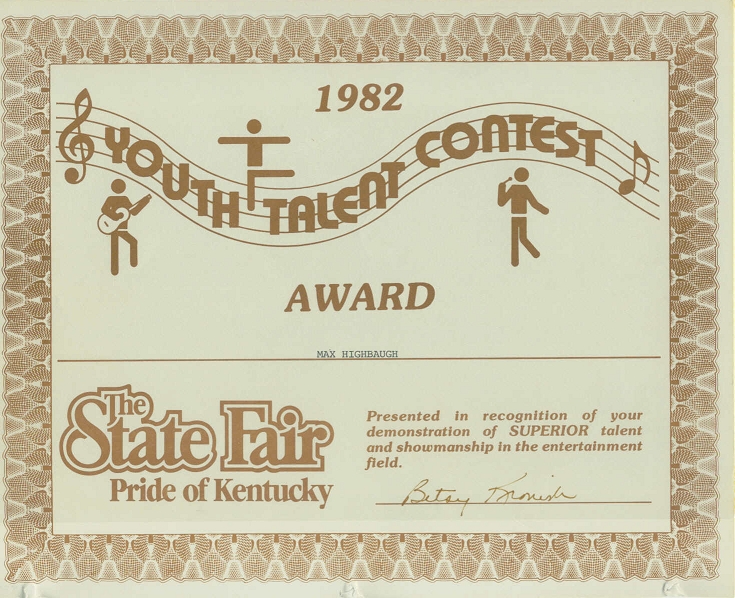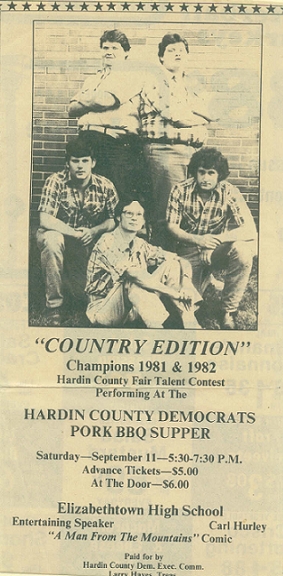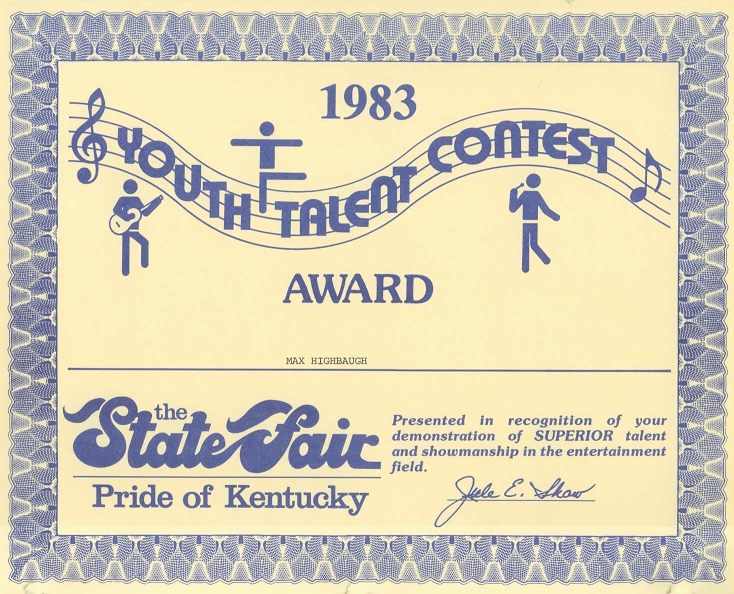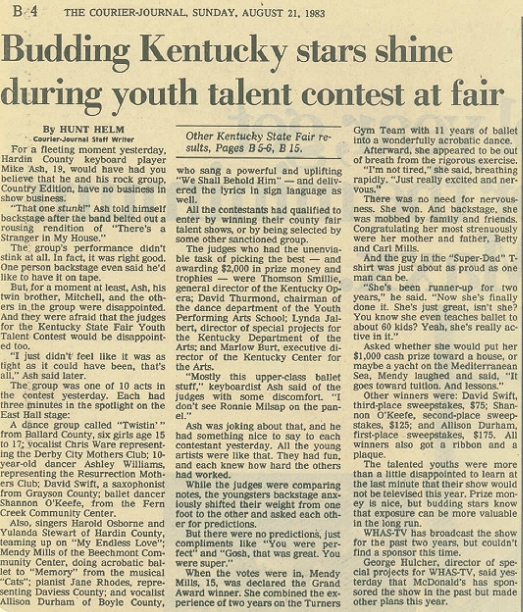 And so this story has indeed been an evolution of sorts, going from Rockville Express to Phoenix to Evolution to Country Edition. The intriguing thing is that throughout the years from Hardin Central to Elizabethtown Community College almost the same core of musicians, in some form or fashion, have had a connecting part in each incarnation of these bands. And although it has been over 20 years since most of these guys have played together, one shouldn't be too quick to say the evolution is over. For all one might guess, it has only begun.....

Cool Links!

Site Designed by Max Highbaugh
All Rights Reserved