Voices You Hear On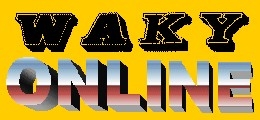 "...a rose by any other name..."
Page Last Updated August 14, 2008

---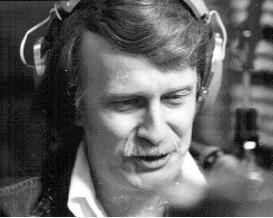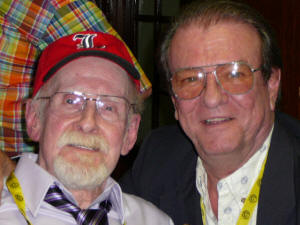 Bill Bailey

Once dubbed by Governor Wendell Ford as the Duke of Louisville, as he became known, Bill (with Bob Todd at right) literally ruled the airwaves, first on WKLO and then WAKY, where disc jockeys at both stations tried without success to equal his fiery delivery and smart mouth. Management tried with the same fervor to curtail his antics, but with no more luck than his cohorts...er...colleagues! Bill Bailey serves as the role model for radio announcers. His character/personality falls somewhere in the midst of teddy bear, brat, uncontrollable teenager, pappy and the best friend you ever had. Originally from Newburg, North Carolina, Bill arrived on the Louisville scene in 1965 to do morning drive at WKLO. In 1969 he left Radio WKLO to do mornings at WLS in Chicago, thanks to help from a tip courtesy of crosstown rival WAKY. The Duke, extremely unhappy with WLS management and being put in a box and controlled by format, quit after sending their morning ratings through the ceiling. Bill returned to Louisville and joined WAKY in 1970, where he ruled the morning roost there through 1981. He left WAKY for duties at WCII (formerly WKLO) when he felt WAKY management was turning the playlist in favor of what he called 'California rock and heavy metal'. Whether it was actually heavy metal or not is irrelevant...the point was Top 40 was changing and the Duke did not like it...one bit. He returned to WAKY for another stint in 1985 and 1986. From there Bill went to WTMT before going to WPOC in Baltimore in 1987 with former WAKY PD Bob Moody. After leaving Baltimore, he entered his final stint on the air, signing on at WVLK in Lexington in 1989 to do afternoons, a change from his morning comfort zone, where he remained until retirement in 1994. Today, Bill is recovering from a 2003 stroke at a Louisville nursing home, but has returned to the air, of sorts, calling in twice a day to WAKY-FM with his 'daily Bailey's'. Still sharp as a tack, the Duke loves to hear from his fans, from whom he enjoys receiving cards and visits.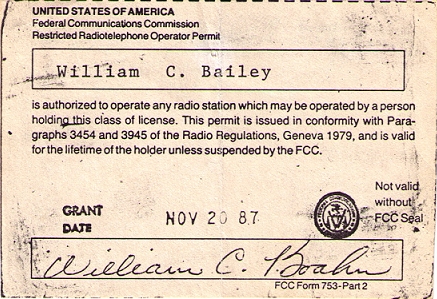 (Courtesy of Cale Tharp)

---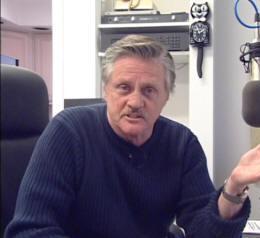 Gary Burbank

Known in another life as Johnny Apollo, Gary worked afternoons at WAKY from 1969 to 1973. He took both his delivery style and name from Gary Owens from 'Laugh-in'. You just never knew who, if anyone, was in the studio with Gary, as he was the master of so many voices and impersonations. Certainly one of the most brilliant jocks at the Super 79, Gary left WAKY for WNOE in New Orleans and served as program director. Rumor has it he had a part in luring Jason O'brien away in 1973, as well. From there he left for Detroit's CKLW before returning to Louisville to do afternoon drivetime at WHAS. Except for a brief stop in Tampa, Gary then headed on to WLW in Cincinnati. It's where he's been for over 20 years, doing afternoons at WLW, although these days he does the drivetime right from a studio built in his home...in Florida!

---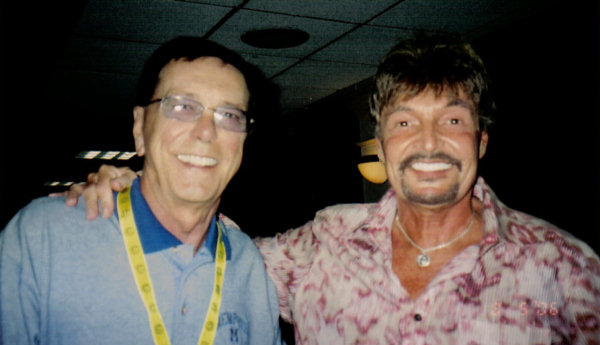 Coyote Calhoun with Dude Walker

Originally from Muskogee, Oklahoma, Coyote, on the right, (we're withholding his real name) came to Big Lou already seasoned from behind the mike, getting his start in Sallisaw, OK at KRBB as a teenager. From there the opportunities became plenty, with stopoffs in Muskogee, Tulsa, Wichita, Chattanooga, and Knoxville before developing his 'cult of personality' at WAKY. He made many teeny-boppers swoon with his antics and ability to relate. And it wasn't just the girls who loved him. The guys dug him, too. He and his trademark coyote howl and non-stop scream remained a staple of the Super 79 until 1979, when he left for Houston for what turned out to be his last gig in Top 40. He came back 'home' to Louisville in 1980 at the then brand new WAMZ and he's been there ever since. What he was at WAKY is no comparison to what he has been at WAMZ for over 25 years. He is the cornerstone for that station and is responsible for bringing in the hot talent that either is or has graced those airwaves. He has won countless broadcasting awards, as well as awards from country music and Billboard magazine.

---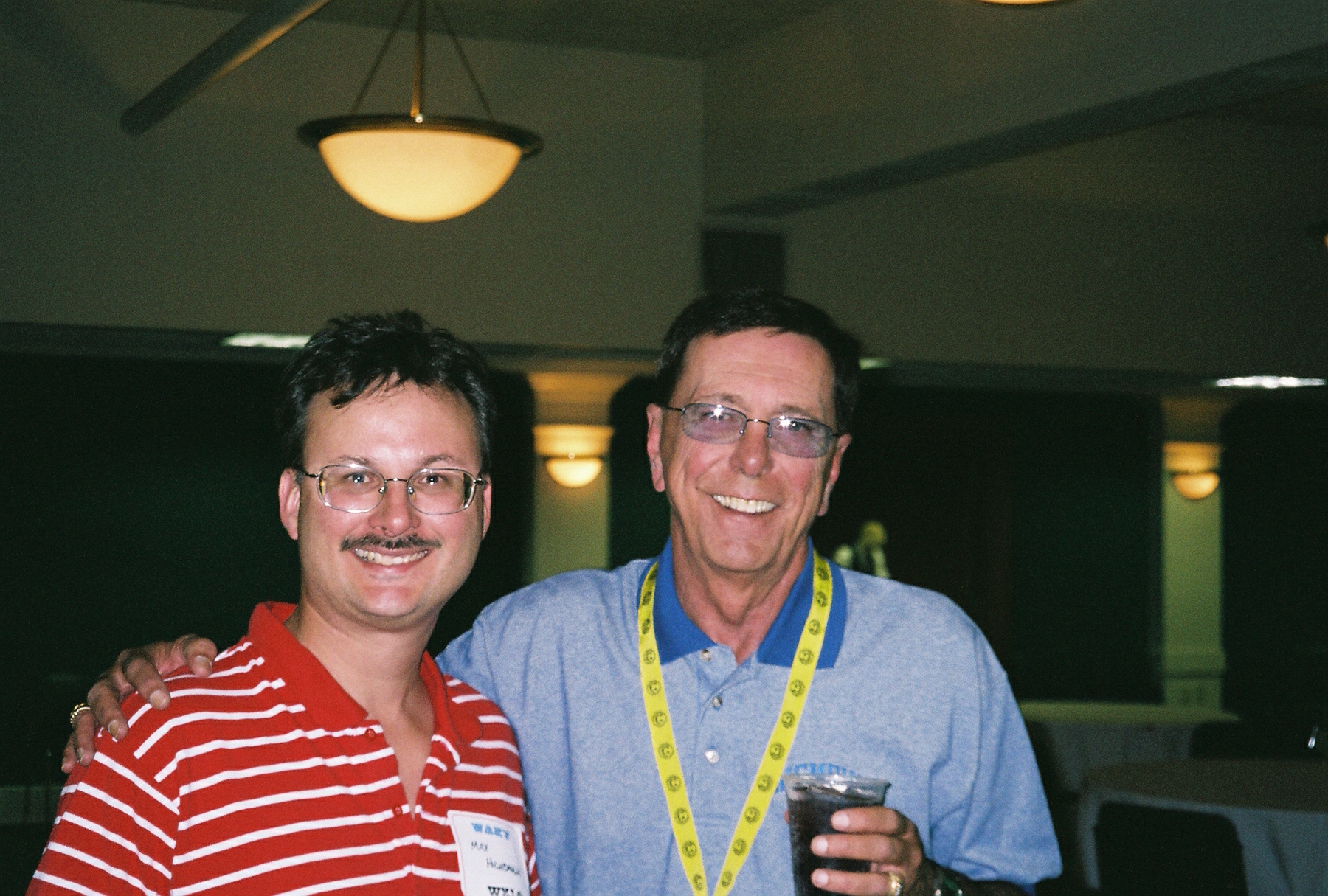 Dude Walker

Dude is one of the most personable of the jocks to have left their mark at the Super 79. Like Gary Burbank, he came to WAKY from Memphis (WMPS) and similar to Gary's alter ego Johnny Apollo, Dude was known as Johnny Dark, although not the WAKY jock by the same name. His impact was immediately felt and he was well loved by the listening audience. He left Louisville in 1971 to be PD at WDXB in Chattanooga, working with Johnny Randolph's predecessor, Bob Todd, but after getting homesick (?) returned to WAKY for a second hitch less than a year later. When he left the Big 79 the second time (for an extremely generous offer) he made his trek up north to CHUM in Toronto. After leaving CHUM he headed back to the states for the windy city's WMAQ and WJJD. He finally headed back home to Memphis for work first at Kix-106 and then finally at WREG-TV, doing sports and weather for 18 years. Television wasn't exactly new for Dude, for while in Louisville he had done some work at WLKY Channel 32. In addition to liners, Dude's voice will be heard in future editions of WAKY Fast Forward as well as at Christmas when his stories from home will be retold once again.

---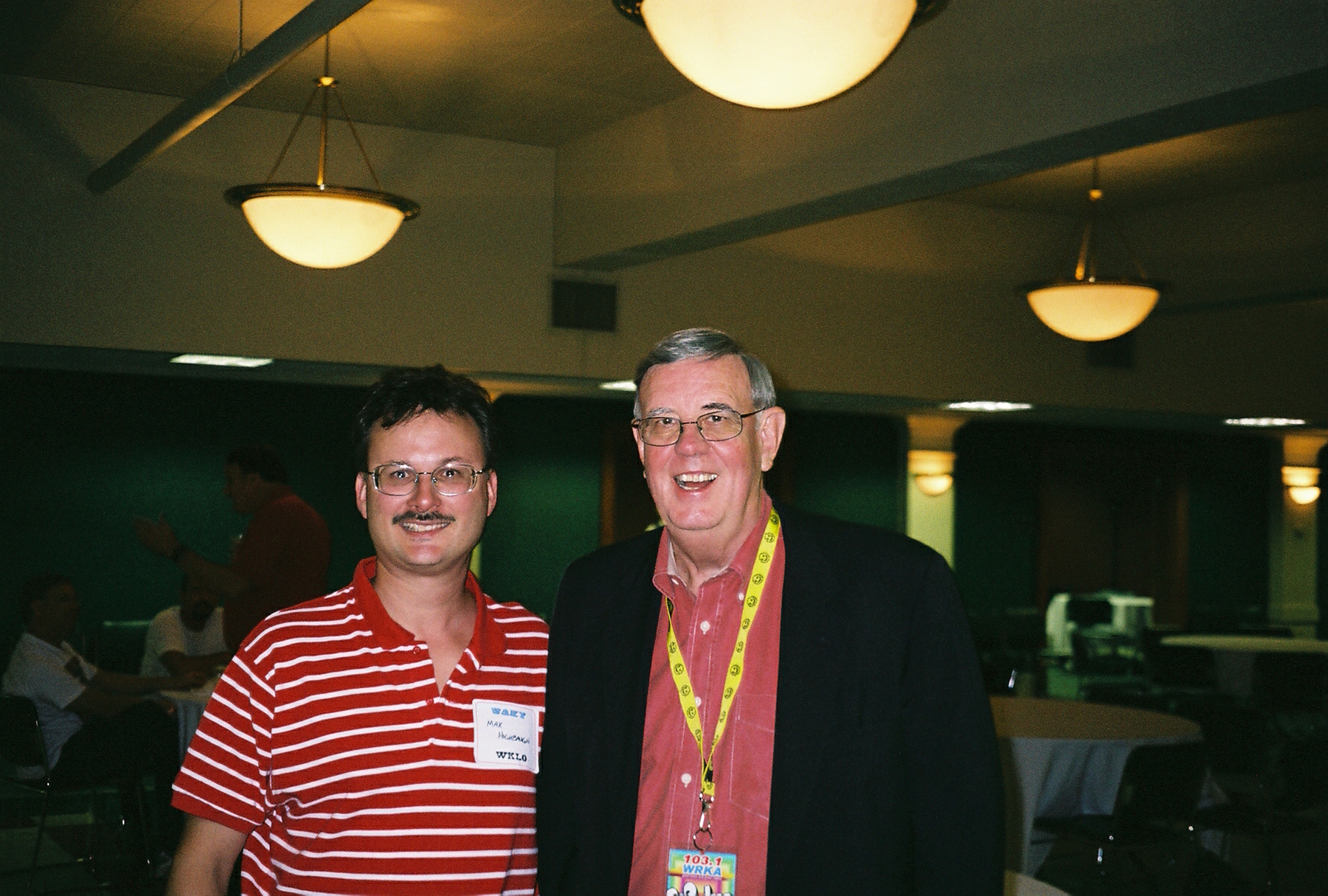 Tim Tyler

Starting in radio as a teenager (hey, there's a trend here) Tim, (real name Don Schwartz) got his start when living in Okinawa, where his father was stationed. After graduation, Tim went to work in 1958 as announcer and sales rep there at KSBK, a combo which would benefit him later in Louisville, but it wasn't long before he returned to the States in 1959 and KAKE in Wichita. A year later he went to work at KBUD, in Athens, Texas. He came to WAKY in 1963 and was an outstanding jock until 1967, when he went into sales, where he remained until he left in 1973. Tim has also worked at KDOK in Tyler, TX as well as WIRL, in Peoria. He recently retired from broadcasting, selling his share of Cleveland, Tennessee's Brewer Broadcasting.

---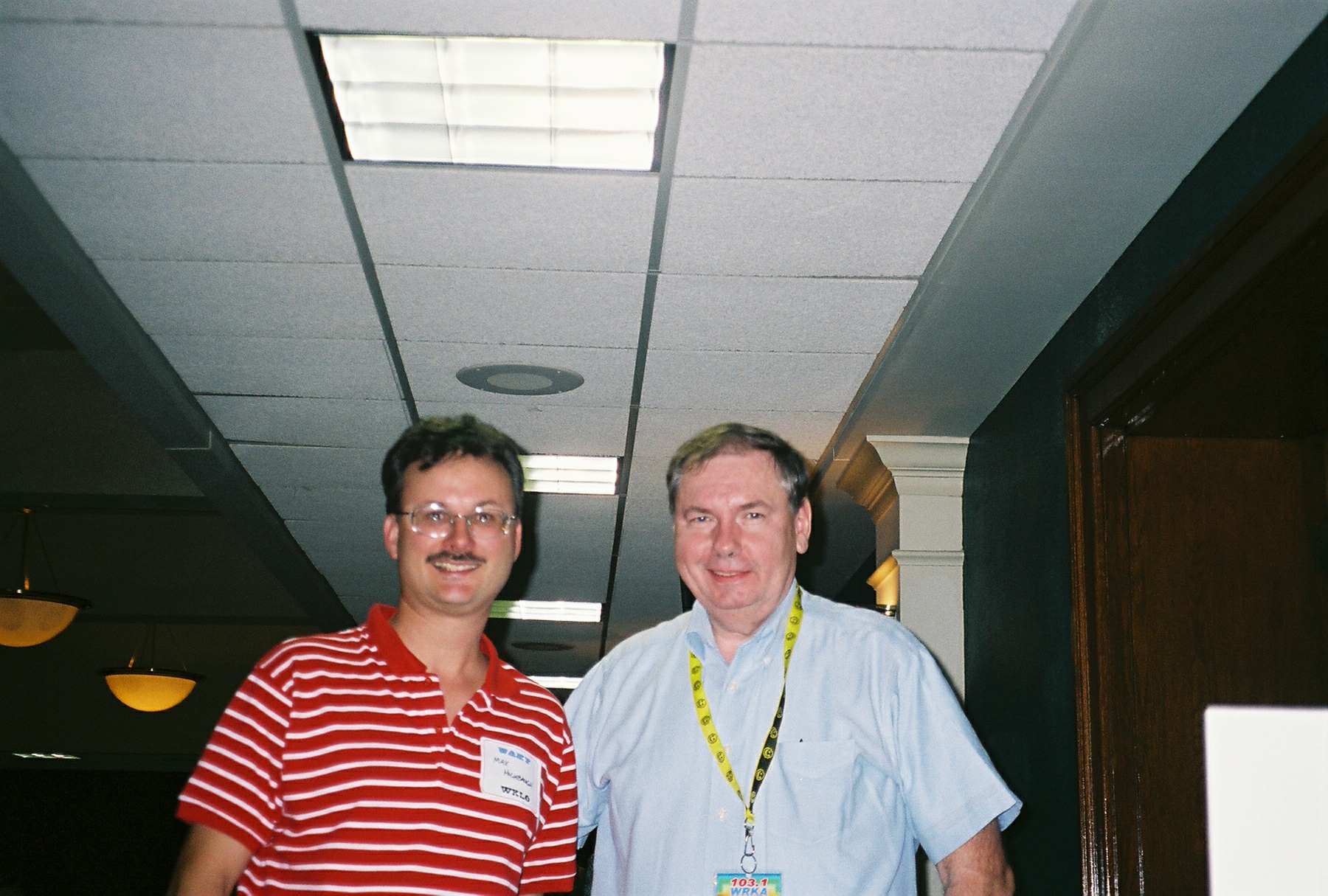 Mike Griffin

Mike Griffin began his broadcasting career at age 16 at a small AM radio station in New Albany, Indiana. Four years and several stations later, including WREY and WXRX. Mike joined WAKY in Louisville initially as fill in for the vacationing Mason Lee Dixon and then as production director, staying there for seven years. After WAKY Mike moved into television engineering at WDRB and WHAS before joining Sony Broadcast Products Company as a field engineer. During his career at Sony he was the chief architect and developer of key System Monitoring Products. A three time winner of Sony's "Special Achievement Award," and a top paper winner at Sony's Technical Symposium. Mike is known for his ability to create IT based tools and to bring IT technology to bear on difficult systems problems. Currently Mike is Chief Technology Officer and Co-Founder of MTD Systems, a systems monitoring provider for Broadcast and IT systems.

---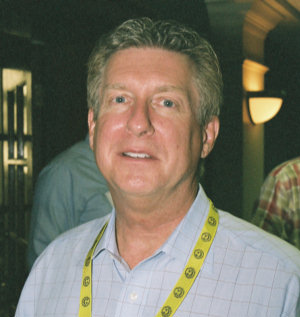 Jason O'brien


Jason O'brien, a.k.a. Howard Toole, despite his youthful appearance on WAKY surveys, has been involved in radio longer than one might imagine. He came to Louisville at WAKY in 1971, but not before spending time on the air as Johnny Jay at Augusta, GA's WRDQ in 1965 and then WBBQ two years later. He made one more stop in the Peachtree state at WRFC in Athens before leaving Johnny Jay behind enroute to WAKY in the early 70's where he remained until '73. Keeping his pattern of staying at a gig only two years, he packed his bags and moved to New Orleans' WNOE-FM where mysteriously Gary Burbank was PD...hmmmmm. He returned to Georgia in 1976, finally breaking the 2 year stay at a station, where he served at WVEE/WAOK until donning his cowboy hat and taking GM duties at KJMZ/KHVN in Dallas and then Metro Networks. He remained in Dallas to direct sales at Hispanic Broadcasting before relocating to Shreveport, LA to become the Sales Manager for Access.1 Communications. He also manages three Urban properties: KDKS, KBTT, KOKA. Jason's is the most often heard voice on WAKYOnline.

---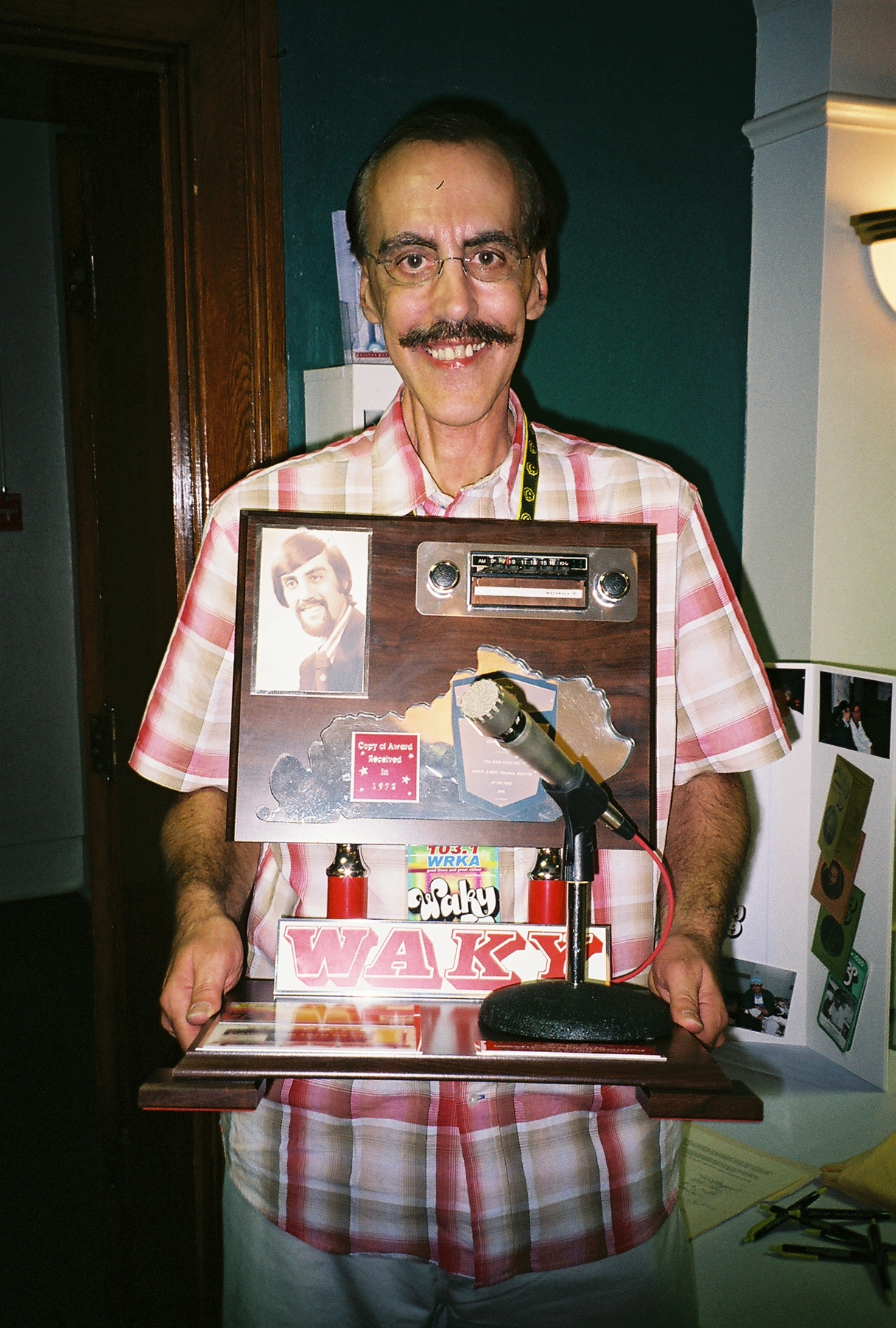 Johnny Randolph
Johnny is what legends are made of, and he came into his in an unorthodox way. Johnny came to WAKY in the late 60's after 2-3 years at Radio WKLO. Johnny was fantastic behind the mike, but his greatest legacy was revealed after he showed what he could do behind the scenes. As assistant PD under Bob Todd, he assumed interim PD after Bob left. The story goes that management had no intention of having him fill the top spot, due to his lack of experience. Well, the other air talent would have none of that...at a station meeting they all threatened to follow Dude Walker's lead and walk out unless Johnny got the job. This pretty much would have left WAKY in a precarious situation and, therefore, made the decision right then and there for management. There is no doubt the right decision was made and Louisville radio is forever indebted to this 'pointed' move. He then performed programming magic that textbooks do not cover. John had the knack for hiring the right people at the right times in their lives and the station's . His PD technique was straight forward-the biggest part of the job was finding the right talent, and when that task was accomplished, simply giving guidance on what needed to be done and what information needed to be conveyed and let the jocks do it in their style...and it worked. This was nothing short of brilliant. Johnny did this until leaving in 1977. After being part owner of a Danville station also called WKLO and then serving as Director of Programming for a 10-station radio conglomerate in Pikeville, Johnny is now afternoon jock at WAKY-FM 103.5 in Elizabethtown. . He received an award for the Greatest All-time Program Director in Louisville at the 2006 WAKY-WKLO Reunion, as voted on by his contemporaries at both stations.

---

Bob Moody

Bob came to WAKY in 1976 to replace Tom Dooley as DJ. In 1978 he found himself in the news department, replacing Bill Graham as News Director and establishing a close friendship with Bill Bailey being his 'sidekick'. He remained there for about a year, when he returned to the fun stuff on the air in 1979 and also hosted the highly popular "Fourth Street Sunday Night". During this time he also served as Assistant PD and Music Director under Mike McVay. He left in 1981 after feeling overworked, but returned a few months later when they offered him the Program Director position just prior to going to an Oldies format. Moody left for the last time in 1985 to go to work for former GM Bob Francis in Shreveport, LA. From here he went to WPOC in Baltimore to team up, once again, with the Duke. Currently, Bob is serving as Vice President of Programming for Regent Communications.

---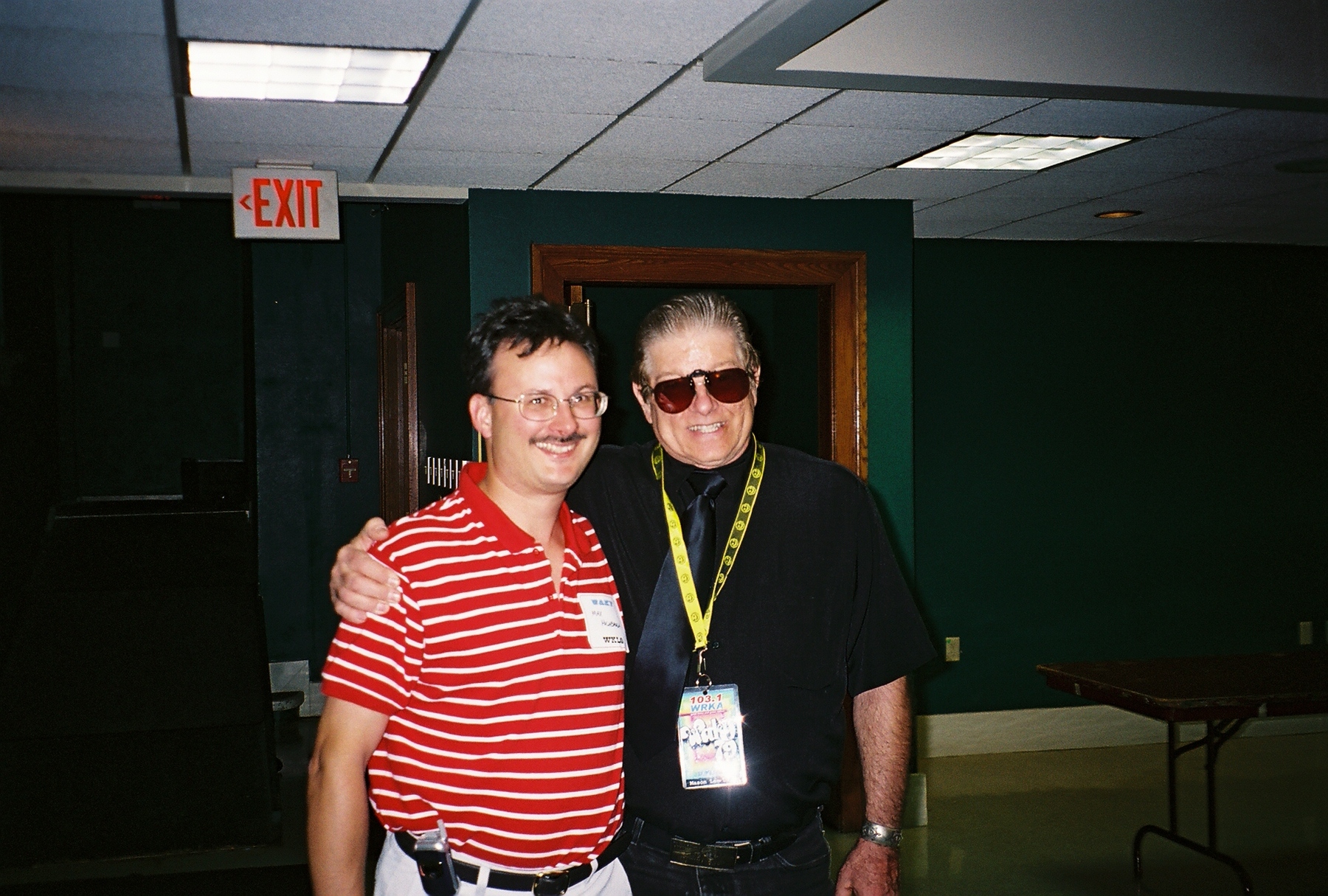 Mason Lee Dixon

Mason Lee came to WAKY in 1969 having cut his chops at stations such as WEKY in Richmond, Irvine's WIRV, WVLK in Lexington and in Paducah at WDXR. He worked at WKLO and other Louisville stations, as well. He left WAKY in 1972 for work at KXOK in St. Louis. It was while working overnights, that he carved the niche he is most remembered for, as he had a WAKY call-in talk show called "The Mason Dixon Line." Like a few others, he came back to work at WAKY in the late '70s, before hanging up his earphones for good (?). He still makes occasional guest appearances on local radio shows.

---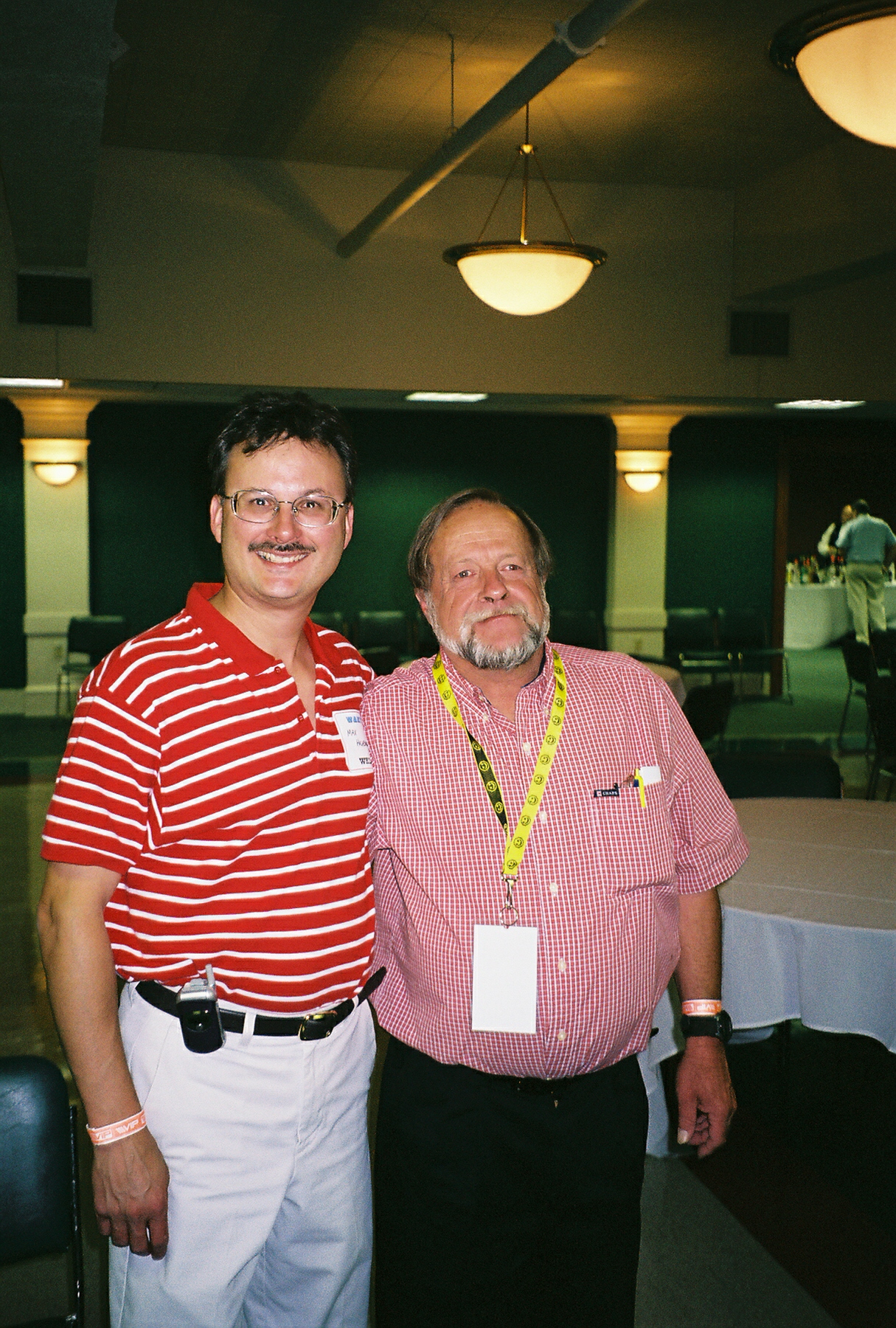 Rudy Ratfink (Ben Pflederer)
Ben was at "Fun Lovin' Wacky" from 1964-1968 as an engineer. During this time period, WAKY was without an overnight personality, so Rudy Ratfink was programmed to fill in the gap in late 1964. This developed into what was yet another novelty along the same lines as Sam Seeburg. Rudy also brought to mind Alvin & the Chipmunks and the Purple People Eater. Rudy was concocted without the ease of modern computers, much to this writers' astonishment. Rudy's show included such bits as instant requests, Fun-n-Games for the late-night crowd, party goers, night shift workers, and the insomniacs from "Fun Lovin' Wacky". His show went from Midnight to 5 AM until 1966. From here, Ben took his engineering talents to crosstown rival WKLO from 1968-1970. He left Big Lou, as Ben likes to call it, for WROK AM/FM Rockford, Illinois in 1970, as Assistant Chief Engineer. Ben is currently FCC Compliance Manager and Field Engineer for Comcast Cable Communications, Inc.

---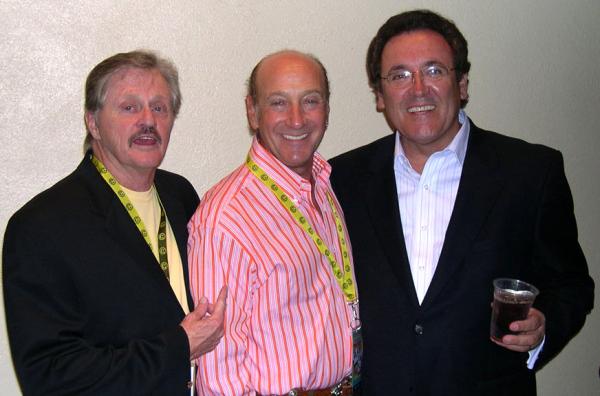 Steven Lee Cook (right) with Gary Burbank & Marty Bass (L-R)
Steven Lee Cook first got interested in radio with the help of his dad, who showed him how to build a crystal radio and over 10 years later, he was working at the Big 79 and rubbing shoulders with the likes of legends Bill Bailey, Dude Walker, Johnny Randolph, Gary Burbank, Jason O'Brian, Mason Lee Dixon and Michael Louis Griffin. Steve served as the ORIGINAL "Weekend Warrior" from 1972-1976. He came back to WAKY and worked fulltime middays 1982-1984, after they had switched to All Oldies format. Steve left WAKY to go into radio sales at WHAS, where he also got some weekend air time. He last served as Account Executive at Kool 103.5 WASE radio in Elizabethtown, Kentucky where he also did...you guessed it...weekends. He is currently employed outside of radio, but don't count out the Weekend Warrior for long!

---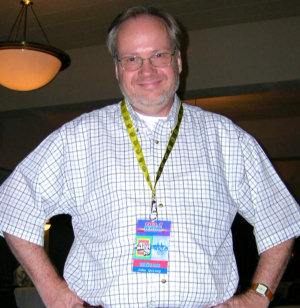 John Quincy

John Quincy, a.k.a. Ted Tatman, learned about a Junior Achievement program being sponsored by Lexington's WVLK-AM when he was in high school and immediately fell in love with the medium. Between his junior and senior year Quincy scored a summer job working seven days a week at WBGR AM & FM in Paris, Kentucky, and from that point, he never looked back. He did stints in other Lexington area radio stations (WEKY, WAXU, WCBR, WKDJ, and WBLG) before getting the call in 1979 to work in Savannah, Georgia at WKBX and WZAT. In 1981, John moved to Charleston, SC to take on PM drive duties at WSSX. Later Charleston gigs included AC WXTC (where he spent nearly 10 years as PD), All 70s WJUK, Country WBUB, Oldies WXLY, News-Talk WTMA, and Country WNKT. Subscribers to Tom Konard's Aircheck Factory service might remember John as one of the narrators of "Around The Dial" and various profiles. John is also credited with planting the seed for WAKYOnline and to this day supplies some of their voice-over and production duties. Today he serves as the assistant program director/music director and afternoon host at AC WSUY-FM in Charleston. Along with his radio work, he creates and maintains Web sites plus does regular mobile DJ gigs.

---
| | |
| --- | --- |
| | |
Cat Michaels

Cat Michaels, a.k.a, Dan Michaels (real name Dan Diaz) comes from New Mexico, where he first cut his teeth in radio in 1988 at KKOR in Gallup. Like most in the biz, he learned what his passion was at a young age and has made his way throughout the West, migrating eastward. From KKOR, he went to KQ 93 in Gallup and then KXTC in Thoreau, NM. Going to college in L.A., he worked at the campus station before going to KCLA. He finally left the West Coast, returning to KKOR, and after a time there made his way east to Evansville and Clear Channel/Regent's WSTO and WDKS. It was here he hooked up with the legendary Johnny Randolph, with whom he worked for two years. It was after a gig with JR he moved to Louisville where he worked for the Bull and WHAS, before travelling down I-65 to take a position with Commonwealth Broadcasting's conglomerate WIEL/WKMO/WRZI/WTHX/WXAM, where for four years he lived on the air on E'town's Star 107.3 (WTHX) and 101.5 the Point (WRZI) as Cat Michaels, and on WKMO "KMO Country 99.3" as Dan Michaels. Cat also served as program director and chief operator for the five stations, all while still managing to find time for voice-overs and disclaimers for WAKYOnline. Cat has recently joined the staff as PM Drive personality for WLVK in Elizabethtown and overnights on WAKY-FM, where he is once again working with his mentor, Johnny Randolph.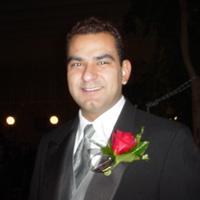 Some portions from The Hardin County Independent

---
Brian Walker

Brian Walker is a full-time writer and photographer with The Kentucky Standard in Bardstown where he has worked since November 2005. For several months prior to his current job he worked as a free-lance journalist for Landmark Community Newspapers Inc., the corporation that owns The Standard and other publications nationwide including The News-Enterprise in Elizabethtown. He also writes a weekly column that displays his tongue-in-cheek delivery and views on the world around him. He previously was the crime and court reporter for The News Enterprise in Elizabethtown. Prior to his career in the printed media, Brian spent 10 years in the radio industry in a variety of capacities including morning show host, program director and music director. It was during his successful run as the host/creator of the popular "Walker Wake-up Show" on WRZI, formerly known as "Classic Hits and More, Star 101.5" (now 101.5 the Point), that he left his thumbprint on E'town radio. He and his broadcast partner in crime, the late news director Ron Boone, teamed up for a four-hour broadcast each weekday that included music, news, comedy and lots of questionable behavior. Brian has won awards from LCNI, Kentucky Broadcaster's Association, Kentucky Press Association, Gavin Music Guide, Associated Press and the Louisville Society of Professional Journalists. He has been recognized by the Hardin District Court system and The Kentucky State Police post No. 4 in Elizabethtown for his work covering news events as well. He and his business partner Charlie Skees of Elizabethtown run the mobile D.J./sound company B&C Sound.

---
| | |
| --- | --- |
| | |
Daniel 'Cheddar' Yount

Dan started in radio as an intern for Clear Channel in Louisville, KY in August of 2004. He was hired part-time as a
board-op
/remote tech the following December. A few months later he got his chance on the air as 'Danger Dan' on 98.9 KISS FM, overnight weekends, and eventually moved up to regular weekend nights. In September 2006 he found himself as afternoon host of 101.5 the Point (WRZI ) as Cheddar and night show host of Star 107.3 (WTHX) as Derrick 'Double D' Daniels. Today, he remains on the Point but is also on E'town's KMO Country 99.3 as well as voice tracks for Glasgow's Star 106.7 (WHHT). Until recently he was part of a four man talk show, "The Part-Timers Show" Saturday nights from 11 'til midnight on Talk Radio 1080 WKJK in Louisville. Cheddar is shown below working in the "WAKY" studios (sort of) of 790 WKRD. Dan also does voice over work for 14WIEL Online and WAKYOnline.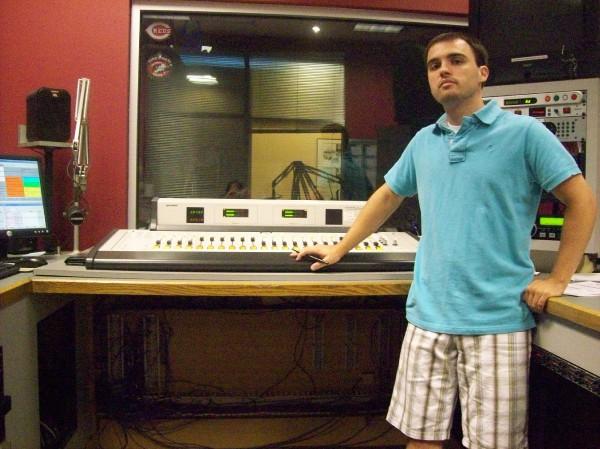 Dan at the studios of today's 790
(New!)


---

Max Highbaugh

Max has been in radio since 1979, getting his start at Elizabethtown's WQXE (Quicksie), where he worked part-time 2 years before going to WKMO, in it's pre-Commonwealth days. After doing a hitch on USS Caron's ship radio station, he left radio for a time, but returned in the mid-90's, enrolling at Columbia School of Broadcasting while at WODC in Virginia Beach. After returning home, he went back to WQXE for a brief period before taking another sabbatical. It was in 1999 he went to WIEL/WKMO/WRZI, where he remains. He currently writes web pages, many of which are for WAKYOnline, and is the curator for WIEL's tribute website, WIEL Information Radio. Max has served as program/music director for WAKYOnline since 2005 and also for the new 14WIEL Online since 2007.
---
Cool Links!
***

WAKYOnline is a private entity and is not associated with WAKY 103.5 FM.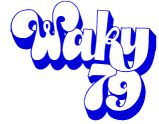 Site Designed by Max Highbaugh
All Rights Reserved